Today, Walmart unveiled the retailer's new Walmart+ member perk – Walmart Rewards – a new program that gives Walmart+ members a fun and easy way to earn additional savings toward future Walmart purchases, both in-store and online. Ibotta is thrilled to be the exclusive provider of these digital offers on hundreds of items through Walmart.com and the Walmart app.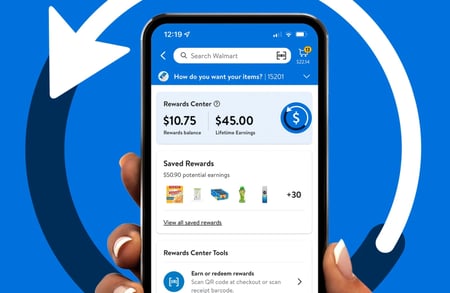 In a recent Walmart blog article, Walmart Connect data shows that customers are open to discovering new deals. In fact, 67% of surveyed customers say they will spend more time looking for a discount, due to inflation, and 32% plan to switch brands1.
How does it work?
Walmart+ members will simply:
Add: Clip and add eligible items to their cart.
Purchase: Complete the purchase of eligible items to earn rewards. Walmart Rewards will be added to their Walmart wallet.
Redeem: Members can bank their Walmart Rewards and use them to save on future Walmart purchases in stores and online, or use them as soon as their next shopping trip.

Chris Cracchiolo, Senior Vice President and General Manager of Walmart+ said, "Let's say after a few shopping trips or online orders, a member has accumulated $10 in Walmart Rewards. When they apply those savings at checkout, what was previously a $25 basket now only costs $15." See more reasons why members will love Walmart Rewards in Chris's recent post.
What does this mean for advertisers?
Rich Lehrfeld, Senior Vice President and General Manager of Walmart Connect said, "Now is a critical time for us to demonstrate not only how we support customers through these economic challenges, but how we unlock opportunities for brands to support them, too. That's why it makes sense to connect item rewards with Walmart's Search advertising. Our advertisers can plug their rewards into one of our most powerful offerings for discovery and purchase – Sponsored Products."
What do advertisers need to do?
Set up item-level digital offers for Walmart Rewards through Ibotta.
Amplify these offers via Walmart Connect with a Sponsored Products campaign.
Through a Sponsored Products campaign, advertisers can seamlessly amplify their products and maximize engagement with Walmart customers and members looking to discover and purchase new products. With the introduction of Walmart Rewards, Walmart Connect will be integrating item rewards into these Sponsored Product ads in the same format as organic search result listings, maintaining a cohesive user experience. These item rewards will appear in search in-grid placements for logged in Walmart+ members. Combining the power of Sponsored Products with item-specific rewards will enable suppliers to reap the benefits of both marketing strategies and help them to better engage with members and provide even deeper savings. And today, perhaps more than ever before, unlocking this value is critical.

While Walmart advertisers will continue to purchase ads through Walmart Connect, these item rewards will be sourced and fueled by the Ibotta Performance Network. Advertisers must work directly with Ibotta to set up item rewards digital offers.  Existing Walmart suppliers who want to get started can complete this form, and will receive follow-up communications from Ibotta.
Source1: [Walmart Spark Panel, April 2022. Data was collected through an online survey distributed to customer panel members. Managed by conversation>ally, a Data Strategy & Insights team, part of Walmart Global Tech.]