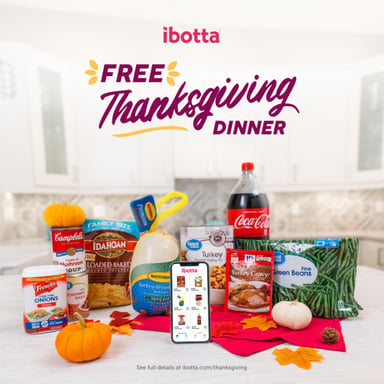 Nine months prior to Thanksgiving, mobile rewards platform Ibotta saw an opportunity to advance its mission of making every purchase rewarding while also helping Walmart shoppers during what was shaping up to be a difficult year.
The company pulled together several manufacturers to create a cash-back giveaway dangling one million free Thanksgiving meals at Walmart. The meal comprised of nine products valued at a total of $20, offering 100% cash back on purchases of qualifying Butterball turkey, private-label Great Value green beans, Campbell's cream of mushroom soup, McCormick & Co.'s French's crispy onions, Idahoan Foods' Idahoan potatoes, Great Value cranberry sauce, McCormick gravy and Great Value stuffing products as well as a two-liter bottle of Coca-Cola.
The "Free Thanksgiving Dinner" effort launched the day after election day. "We figured that Nov. 4 would be an interesting time to launch this program because people were just so sick and tired of the election, divisiveness and fighting," Ibotta chief executive officer Bryan Leach told the Path to Purchase Institute. "We wanted to change the subject … to a time of gathering and gratitude."
"We know that many shoppers are looking for ways to help stretch their income during these times," Coca-Cola shopper marketing manager Melissa Boyer told the Institute. "This opportunity … was uniquely positioned to help brands like Coca-Cola give a little back to families in need."
As a retailer already committed to fighting food insecurity and one that is known for value shopping, Walmart was the ideal retail partner, Leach said.
"Although we've worked multiple times with Ibotta in the past, this was a first of its kind program partnering with Walmart," Boyer said. "It also aligned well to our holiday 'Coke with Meals' campaign, so we saw a great strategic fit."
In addition to in-app ads, marketing for the program included affiliate relationships with influencers amplified by a custom referral program as well as paid media across digital, radio and TV.
Walmart and some of the participating brands provided additional support beyond funding by leveraging their social media pages. Coca-Cola also deployed custom POS.
"We're staying connected with Walmart to ensure these types of programs are aligned to their strategies and are seen as wins for their stores, categories and suppliers like Coca-Cola," Boyer said. "We have been very pleased with the level of shopper engagement of this program, and anytime Coca-Cola can participate in a positive event that helps people sit down to a meal, we will consider that a positive experience."
The investment was intended to increase brand awareness, bring a new generation of shoppers to Ibotta's mobile application and newly released browser extension, and drive online purchases at Walmart. "That's strategically helpful and we're excited to see both in-store use and online redemptions," Leach said.
Ibotta's browser extension is the first such offering to focus on CPG products, Leach says. It works across some 750 retailer websites (basically anywhere other than Amazon) and automatically pops up cash back offers for products that shoppers are looking for when shopping for groceries online.
"There's never been a service in the U.S. that provides grocery content at scale for online purchases," Leach says. "It's helping to facilitate a whole new generation of online shopping in the fastest-growing [grocery] category."
Want to join Ibotta's next Thanksgiving campaign? Inquire here!