Commerce marketing leaders have wrapped what has been an exciting and invigorating week at P2P Live - Chicago, sponsored by Ibotta. Mid event, on Wednesday, October 19th, Ibotta Founder & CEO, Bryan Leach, shared the main stage with General Mills Senior Manager, Loyalty Rewards, KC Glaser for a fruitful conversation — Performance Marketing 3.0 Maximizing 'Pay Per Sale at Unprecedented Scale.'
"We know consumers are facing challenges. We know that they will trade down to Private Label. We know that we'll get some of them back – there's a 0% chance we get 100% of them back. What I love about our campaigns on the Ibotta Performance Network is that [for example] a third of the redeemers were new to Big G cereal and more than half traded up from both value brands and Private Label which is where we tend to see our customers slip in times of economic uncertainty." -KC Glaser
"The IPN enables advertisers to seamlessly reach shoppers with cash back offers that work in-store and online, across a network of leading retailers like Walmart, Kroger, and Ibotta owned properties. We're arming brands with the latest innovation in performance marketing that's driving efficient growth for CPG partners like General Mills." -Bryan Leach
With high inflation now persisting, shoppers are trading down and readily choosing products at lower prices. In fact, as many as 74% of shoppers are trading down, as reported by Mckinsey & Company. This is how Private Label and value brands are capturing significant market share against category leaders. Notably, however, having joined the IPN, General Mills is winning back share and dominating key categories.
Key Insights
General Mills is seeing 3-8X ROAS in key categories when activating across the IPN.
IPN campaigns have averaged 44.5% incremental unit lift across key categories like cereal & yogurt.
35-41% of redeemers were new to General Mills Big G cereal or traded up from Private Label and value brands.
What's Igniting the Partnership
According to KC Glaser, "There's a whole variety of benefits," to joining the IPN, as General Mills sees it. "We've been partnering with Ibotta well before the launch of the Ibotta Performance Network, we're excited to see how that amplifies what we've been doing already."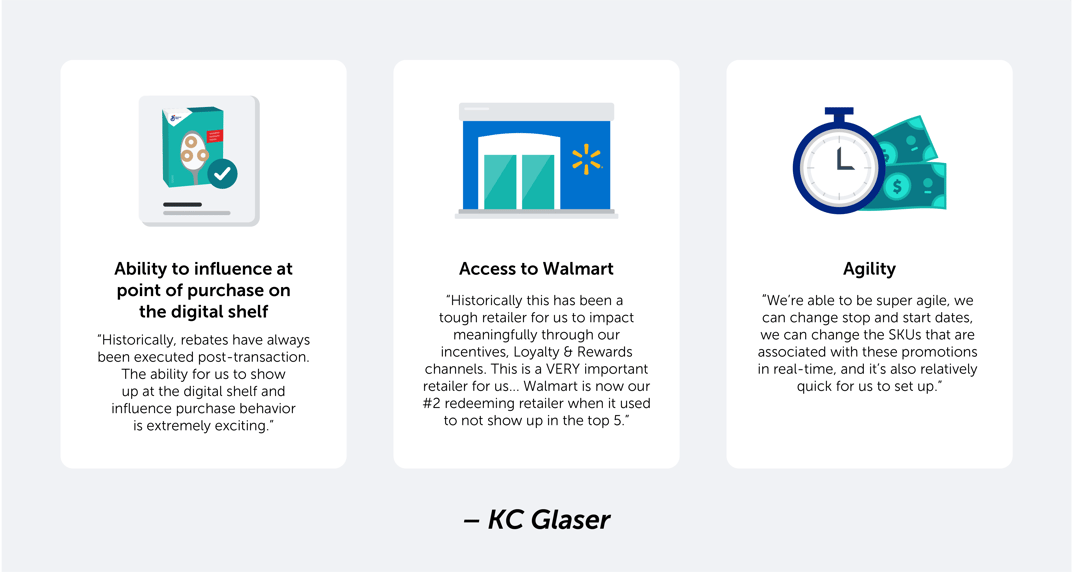 By partnering with Ibotta, brands and retailers gain a twofold advantage: first, maximized customer retention, through closed-loop offers which keep customers coming back (in-store, online, or both); second, driving greater return on ad spend, through '100% pay-per-sale' which gives brands access to a no waste platform, so they can stop losing dollars on clips or clicks that don't result in a sale. CPG advertisers know that many shoppers frequently click without ultimately making a purchase, and Ibotta alleviates this challenge from an investment standpoint.
These combined advantages empower brands to win back category share — especially critical during this time of inflation, category switching, and shoppers trading down.
Early Performance Results
Brands are competing for shoppers and market share — General Mills, having joined the IPN, will reach consumers across the largest network of its kind through Ibotta's wide ecosystem of leading retailers, publishers, and owned digital properties.
The table below shows CPG category growth following IPN launch, highlighting six categories which experienced tremendous lift in percentage of redemptions. As further IPN data shows, General Mills plays a major role in three of these six categories — which indicates great opportunity for other brands to grow their market share across the IPN.
Only Cold Cereal & Better for You Yogurt were ranked in the top 6 prior to IPN's launch


Key performance indicators involve measurements of new buyers, average purchase cycle, and category incrementality — based on IPN data.
Below is a drill down into how General Mills is activating and measuring success at the digital shelf across two key categories.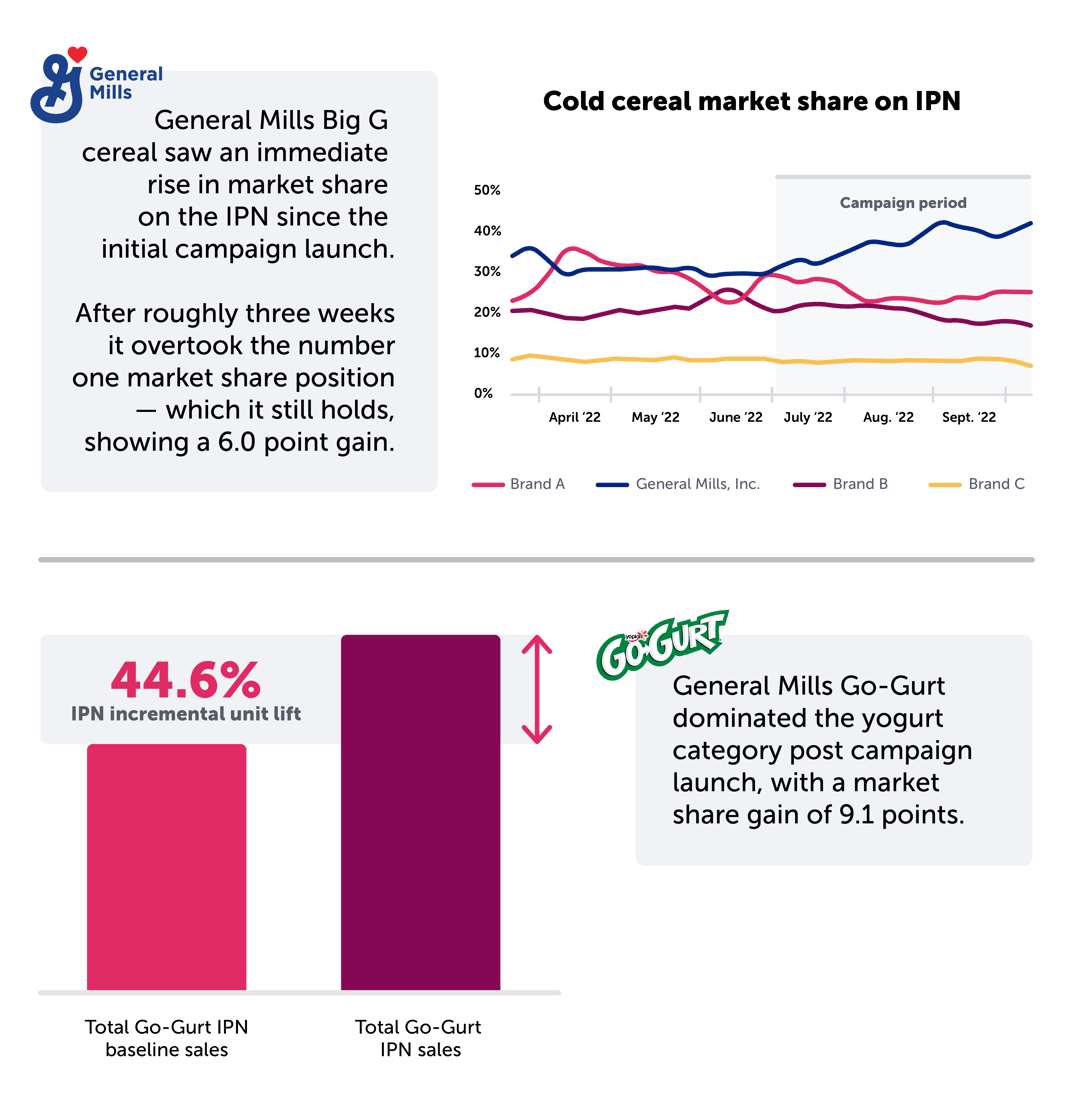 Ultimately, General Mills is "widening the gap" as KC states, winning back market share against Private Label and value brands.
Significant for a category leader, the tables below show the percentages of new shoppers won over by General Mills across the two respective categories, when activating.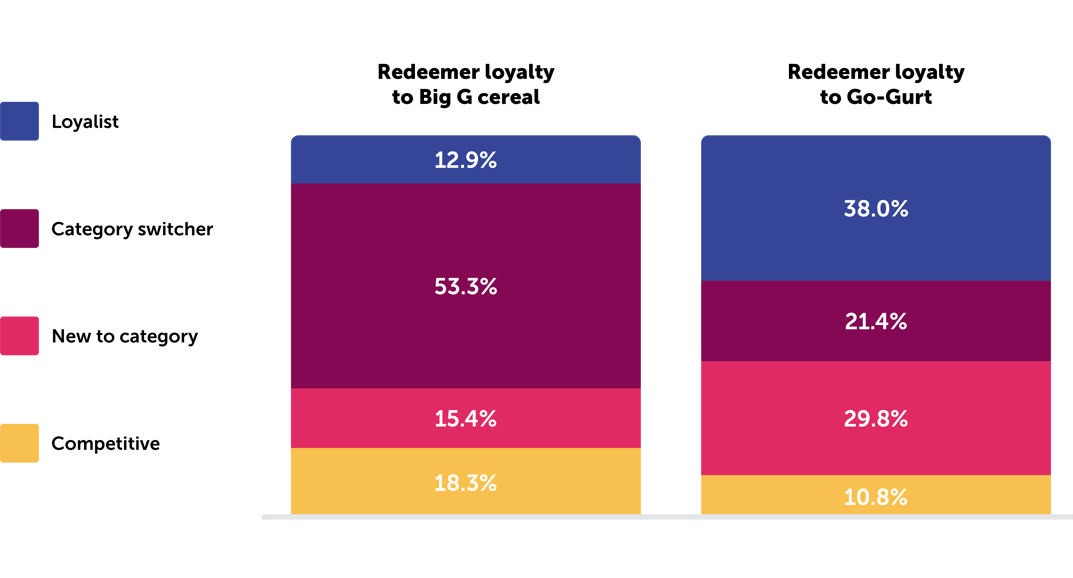 Big G and Go-Gurt also saw dramatic improvements in purchase cycle, reducing the number of days between average customer purchases.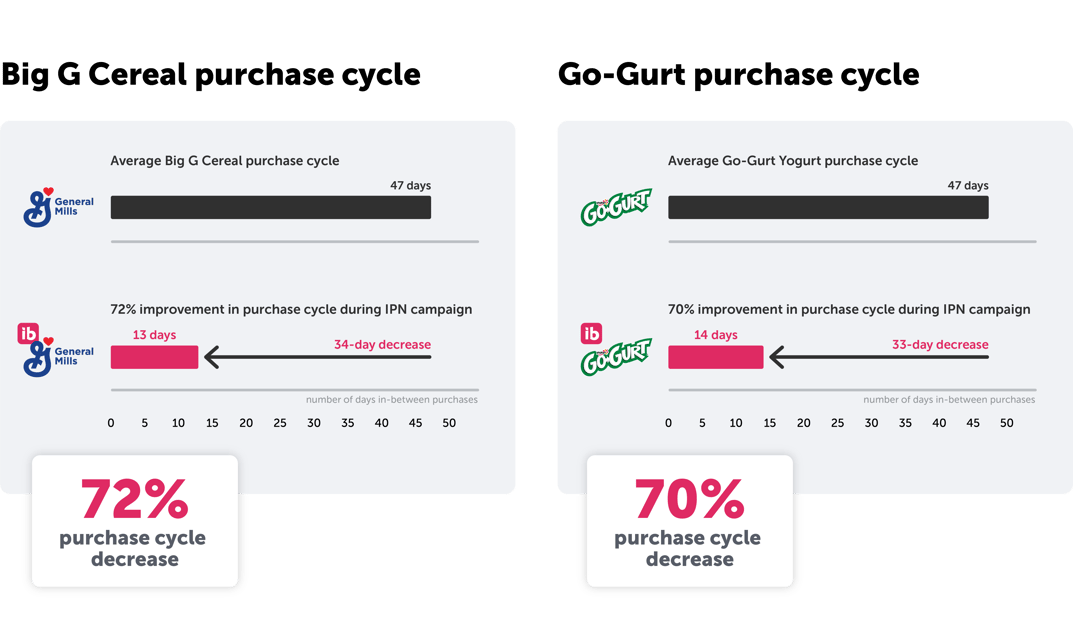 "I don't care what your purchase cycle is, if you shorten it by 72% that's a huge win." —KC Glaser
In addition to condensing the purchase cycle, the yogurt category had a significantly higher share of total purchases during September 2022 compared to the previous eleven months — earning its strong placement on the Category Pacesetters list which represents monthly category performance using Ibotta's first-party SKU-level purchase data including in-store and online sales across all major retail channels. Notably, yogurt did not make the Category Pacesetters list in September 2021.

Takeaway
Brands like General Mills that join the IPN see near-immediate results with greater return on ad spend.


Achieve Your Key Goals


Which metrics are most important for your brand? IPN insights and proprietary data enable advertisers to identify new opportunities for effective promotional strategies. Get in touch here to explore possibilities.