Key Insights Summary
---
Ask 100 CMOs their greatest concerns entering 2023 and most will mention inflation. They also may note supply chain issues and the general weakening of the U.S. and global economies. In fact, PwC found "appropriate pricing in the wake of soaring inflation and softness in the economy" is the top challenge for CMOs, according to a recent survey.
CPG brand leaders are grappling with the latest rise of Private Label and value brands amidst economic concerns. 65% of retail shoppers say they will trade brands if prices are too high, according to a recent Deloitte survey. The survey also found that 41% of shoppers expect the economy to weaken in 2023 (vs. 33% in 2021, 27% in 2020) — which is backed by an even larger segment of experts (over two thirds of U.S. economists believe a recession is likely to hit in 2023).
A majority of categories across 2022 experienced significant movement between Private Label and branded products. Of these categories, 71.5% have gained in Private Label share.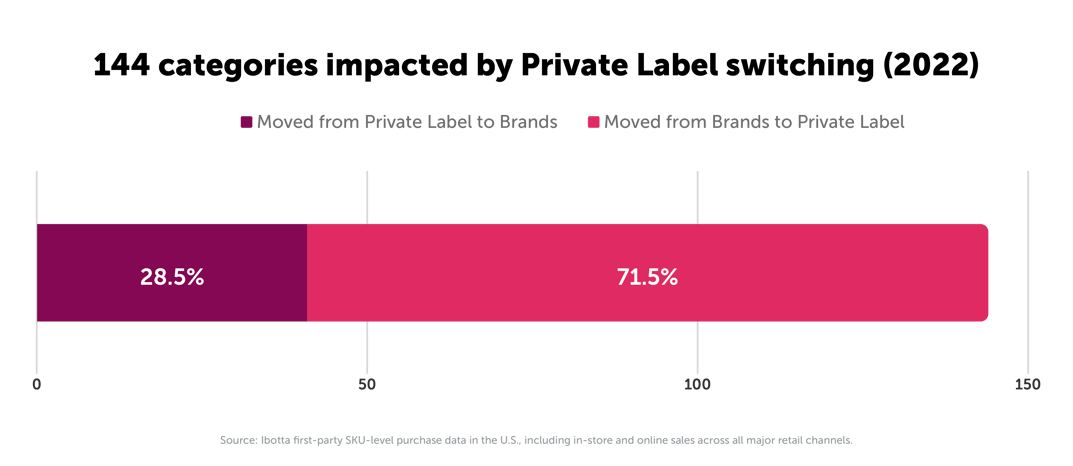 Looking back decades, Private Label gaining market share is not new. However, the issue for CPG brands is exacerbated by economic conditions causing shoppers to get even savvier and readily trade down. Retailers are combatting this trend, appealing to shoppers to increase retention, by leaning on promotional and rewards strategies.
Walmart for example launched Walmart Rewards in mid 2022, powered by the Ibotta Performance Network (IPN). Chris Cracchiolo, Senior Vice President and General Manager of Walmart+ said, "Walmart Rewards is a new and easy way for Walmart+ members to earn additional savings toward future Walmart purchases. As members search for products on Walmart.com or the Walmart app, they'll see an option to add rewards starting with hundreds of bestselling items, from groceries to household goods to pet care and beyond. This is on top of Walmart's everyday low prices."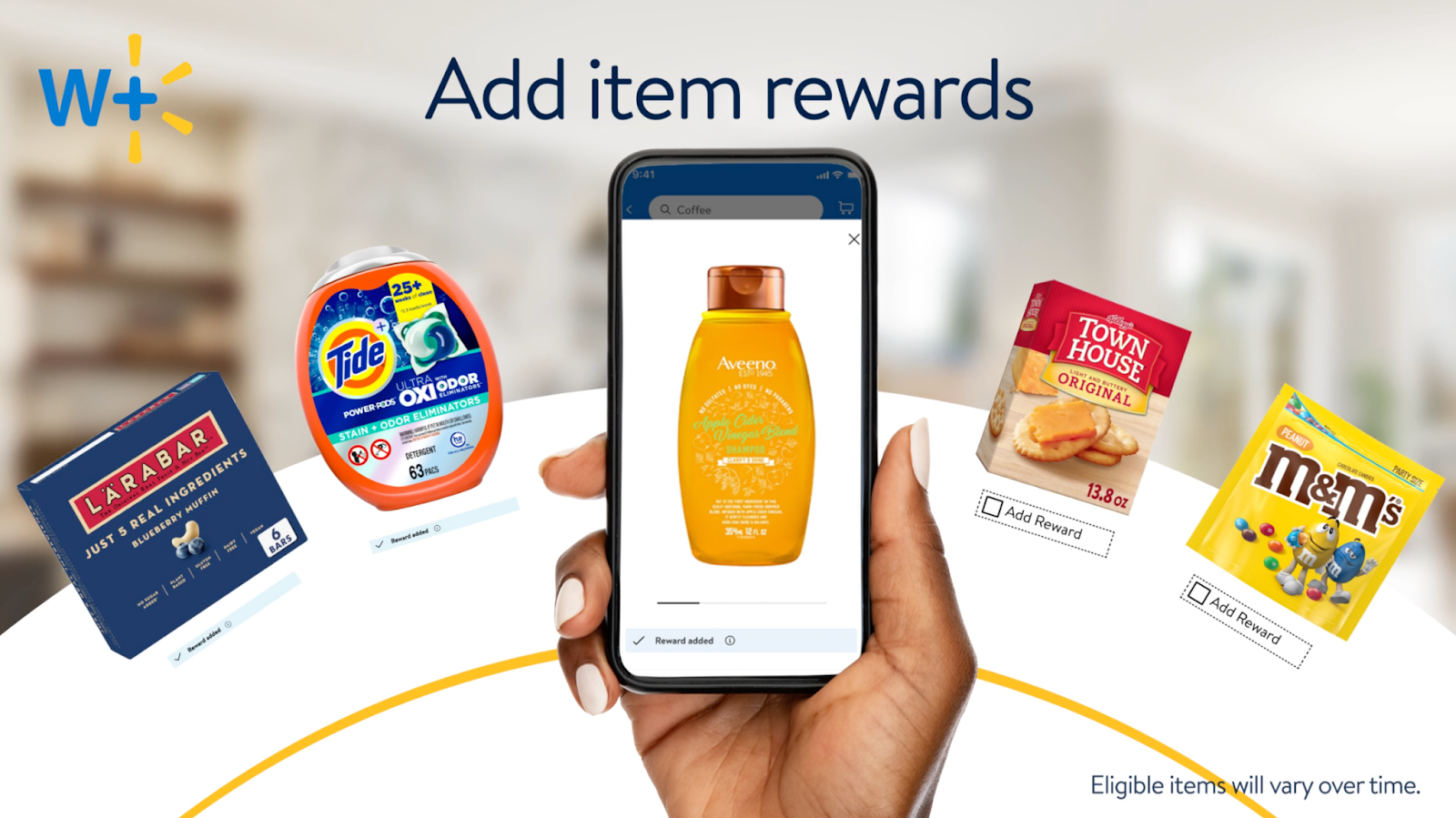 As General Mills sees it, "There's a whole variety of benefits," to joining the IPN, according to KC Glaser, General Mills Senior Manager, Loyalty Rewards. In key categories, over the first months post-launch of IPN campaigns, the Company saw 3 – 8X ROAS, an average of 44.5% incremental unit lift, and 35 – 41% of redeemers trading up from Private Label and value brands.
As more brands and retailers join the rapidly expanding IPN, consumer expectations will continue shifting toward the availability of incentives offered by the brands they love. Rewards and cash back offers will keep shoppers coming back, and ultimately, loyalty can be forged with incremental growth for brands and retailers.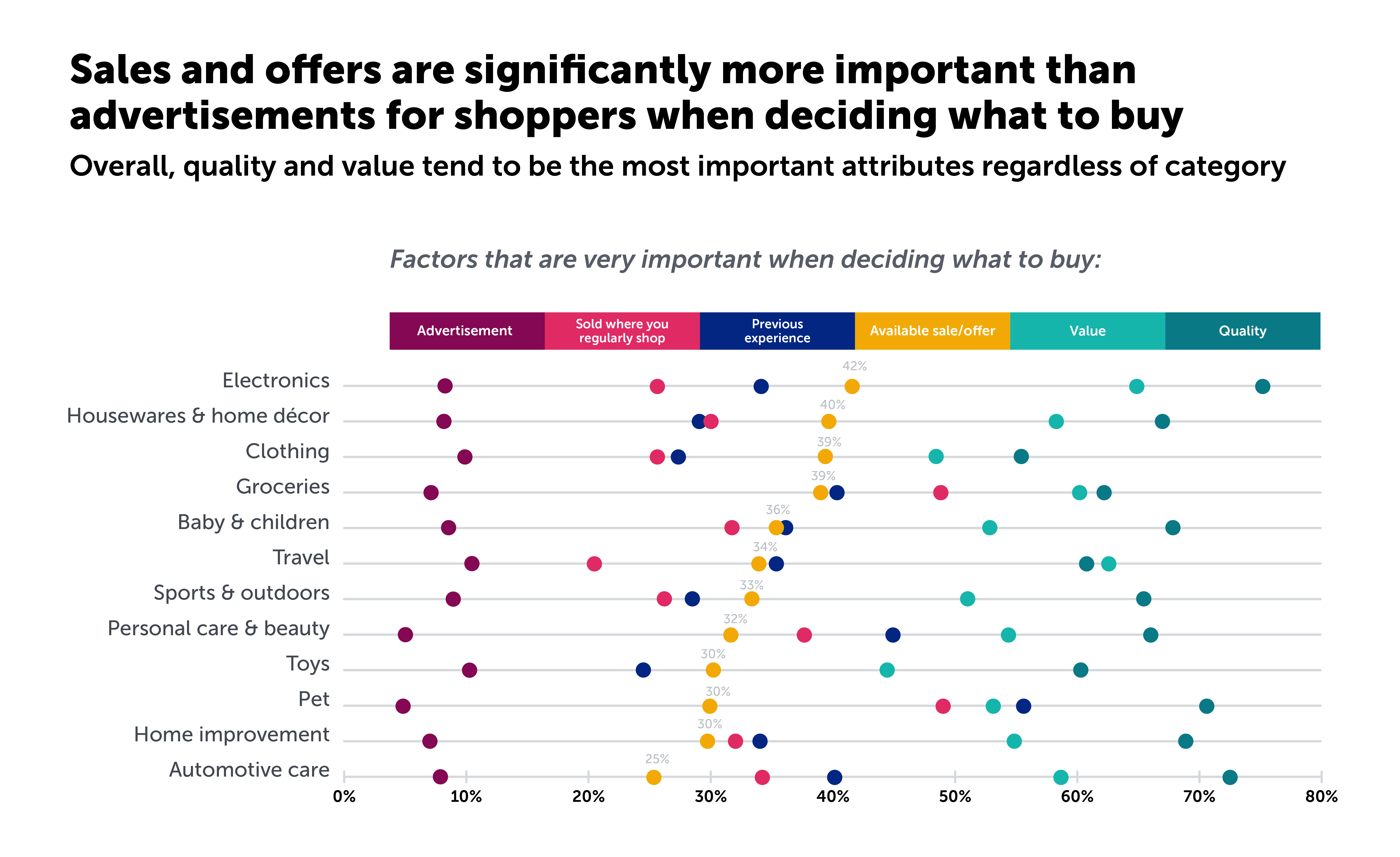 Shopper Loyalty Research
Back in 2020, McKinsey reported "Some 80 percent of customers who started using a private brand during the pandemic indicate they intend to continue using it once the COVID-19 crisis is over."
IPN data indicate there was truth in such a prediction. Looking at shoppers' average basket size and the products making up total basket, 2021 showed a small shift in favor of branded products. A 2022 shift swings back toward Private Label, as the logarithmic chart below illustrates.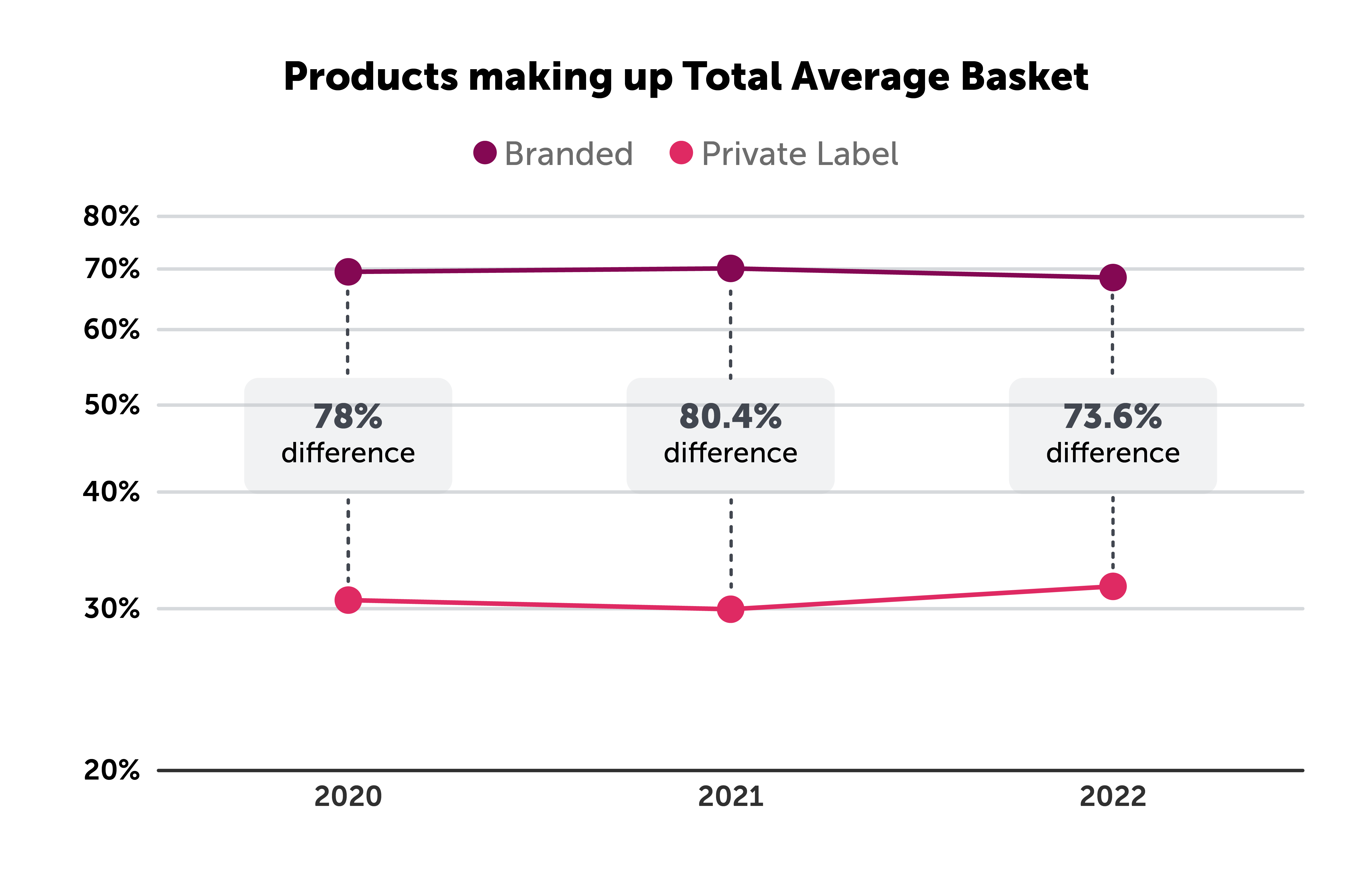 As with the crises of 2020, it can be reasonably estimated that the economic downturn of 2022 and beyond will similarly impact consumer behavior (and therefore brands and retailers), driving shoppers to trade down, seek lower priced items, or even spurn categories of higher elasticity entirely.
Long term effects will take form as brands strategize to win market share and keep customers coming back. As Retail TouchPoints (RTP) aptly noted in early 2022, "an elemental truism of the human condition: repeated actions can become habitual, which in turn can evolve into default behavior." The ways in which brands execute their rewards and promotional strategies now and in the near term can be critical determinants of their growth and shopper loyalty going forward.
The Private Label Perspective
Combating the latest rise of Private Label requires a foundational understanding of what's driving it — an opportunity for retailers to acquire and retain price-conscious consumers. Many retailers are leveraging the economic climate to drive loyalty. Take for example Target, an Ibotta partner, which in Q2 2021 launched its Favorite Day line, featuring 700+ items, precisely to tap into that price-conscious consumer.
In the spirit of comedic relief, Cannes Lions International Festival of Creativity recently resurfaced this Shortlisted ALDI video project, created in partnership with BMF Advertising Australia, showcasing ALDI' Private Label Frusion: "Like Brands. Only Cheaper."
Efforts to drive Private Label growth are proving effective, as seen in the breadth of key categories impacted. The table below shows two dozen of the 103 key categories with critical share increase to Private Label throughout 2022 — each with great statistical significance.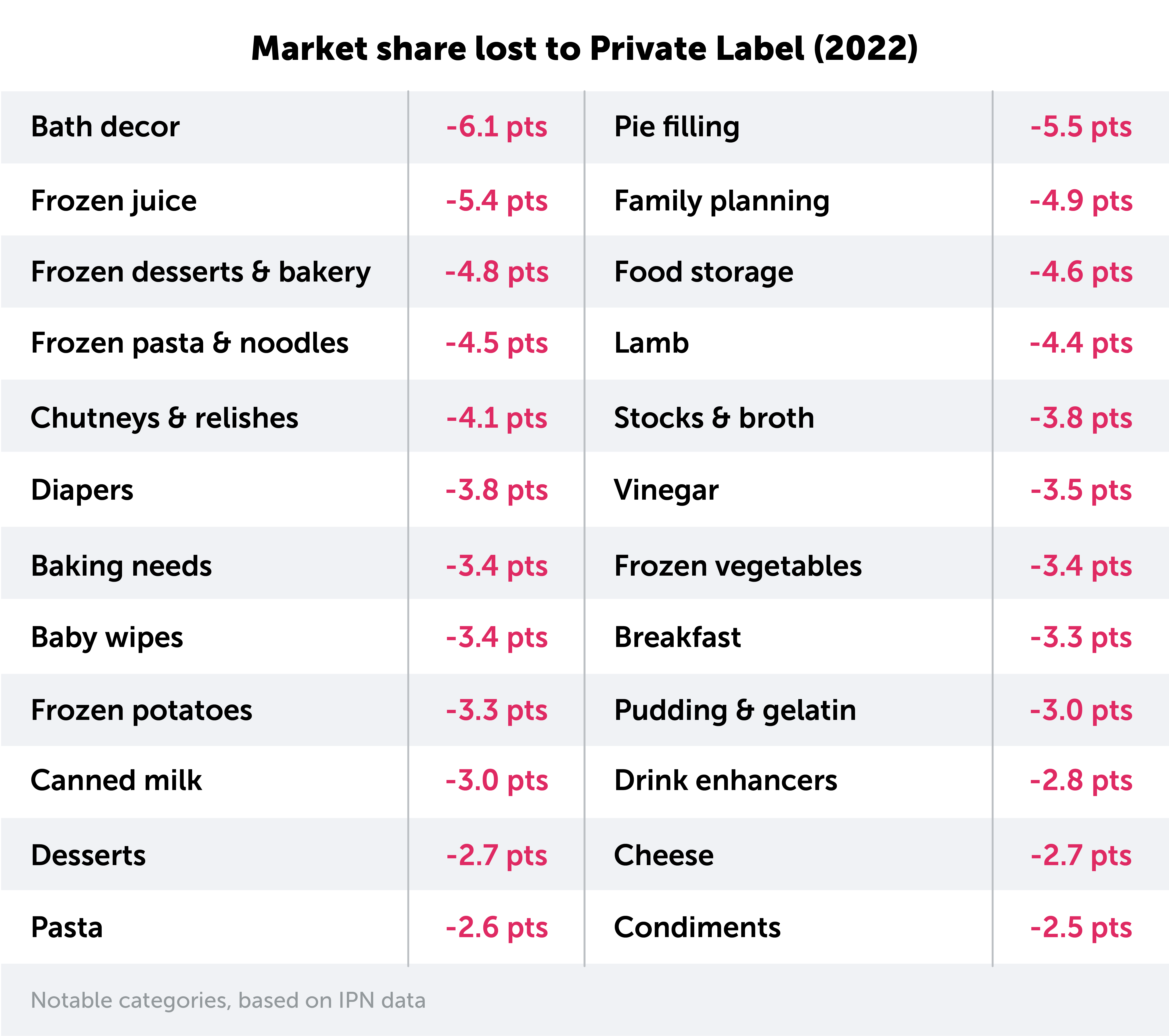 Private Label and value brands aren't to be underestimated — leaders and teams driving them are equipped with pricing structure advantages in addition to creative consumer engagement and brand awareness initiatives, just as brands are.
National brands must also take advantage of the current market opportunity, to ensure continued growth throughout an inflationary period and beyond. There has never been a more critical time for brands to capitalize on the ability to show up at the shelf (digital or in-store or both) offering cash back incentives to influence purchase behavior, make real-time adjustments to maximize impact, and all at 100% pay-per-sale.
Key Categories to Watch in 2023
Leaning on IPN historical data — never repackaged or resold from 3rd parties, always 100% Ibotta user-submitted data down to the product SKU — a segmentation of key seasonal timeframes with the most at stake for leading categories is broken down as follows.


New Year's Resolutions
Frozen fruit joined the Category Pacesetters winner's list in January 2022, indexing at 117, peaking in March at 119, and staying strong through May at 112. Rice cakes aligned closely on a month-by-month basis, also appearing in January, peaking in March, and continuing through May. This correlation, shown in the tale below, may reflect consumers' New Year's resolutions guiding their purchase decisions — as both categories are commonly considered healthy options, even being dually highlighted by widely consumed health and wellness outlets like LIVESTRONG.com.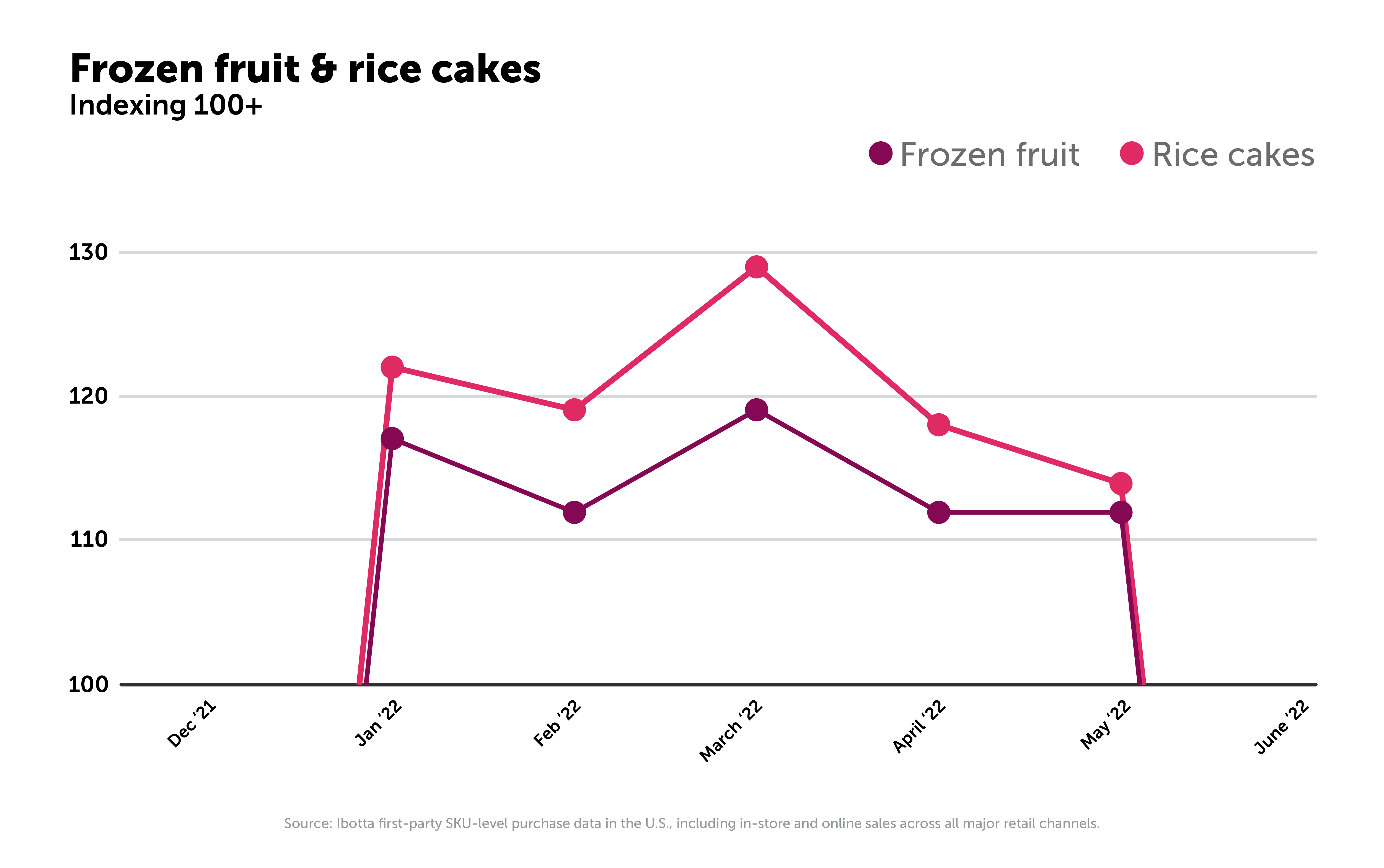 Brands aligned with consumer health goals may choose to leverage insights such as these — purchasing trends which flow and ebb throughout Q1 and Q2 — by launching early Q1 promotional campaigns, capitalizing on anticipated demand.


Summer Kickoff
Summer-essential-SKUs from sunscreen & tanning to outdoor grilling, hot dogs, condiments, frozen novelties and ice cream, and even pest control all made their initial 2022 appearances on the winner's list in May. As consumers prepare for outdoor festivities, pre-summer spending can be expected around this time annually. The gardening & lawn supplies category typically gains traction earlier, as seen indexing above 100 in March 2022.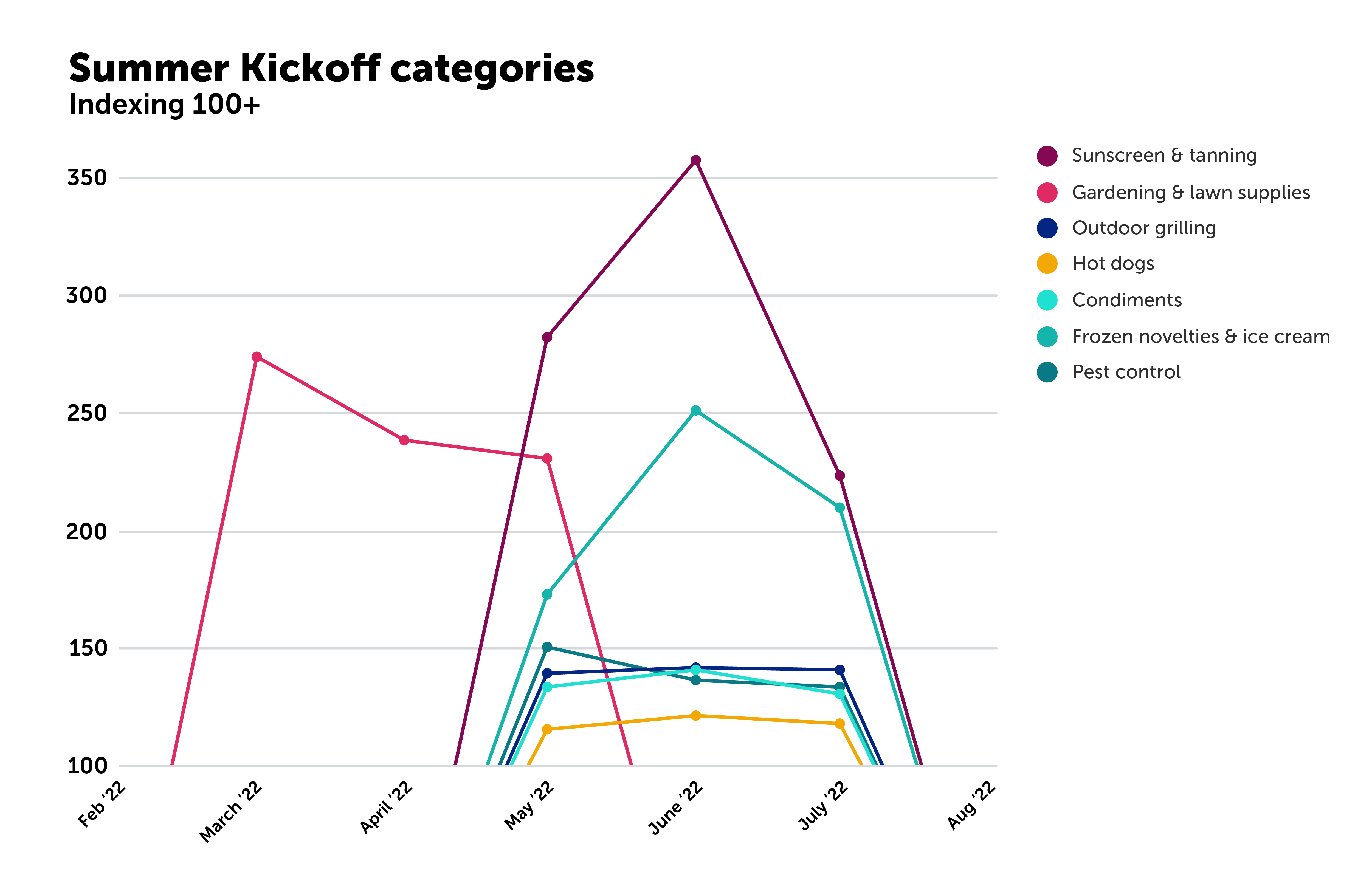 Back-to-School
Coloring and office supplies took the top two spots on the winner's list for August 2022, indexing at 438 and 410 respectively, and this repeated their August 2021 placements.
Deli meat & prepackaged deli meat have been battling for market share, and the chart below shows how prepackaged deli meat saw a robust reappearance during August 2022, closing the gap into September. Summer 2023 will likely see both categories return — brands pushing either will want to leverage these high-demand timeframes and launch timely promotional campaigns to incentivize purchases.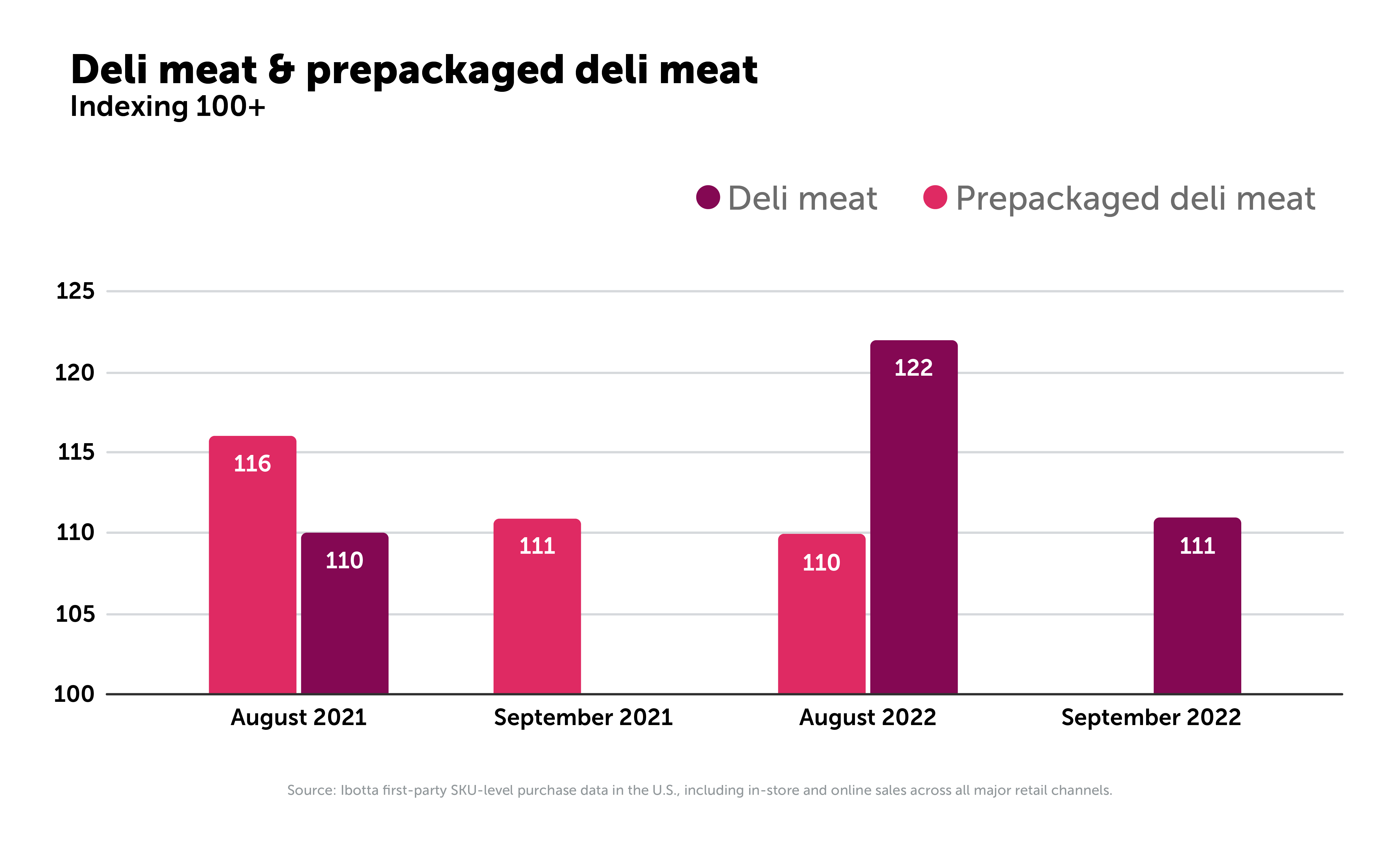 Many other key categories consistently make the winner's list across the back-to-school seasonal timeframe. The chart below provides insight into eight categories which saw greater in-store and online sales volume across these months when compared to all other available months of 2022. July, which the chart identifies separately, often sees preseason spending in certain categories as a leadup to August and September.


Holiday
Pots & pans, pie filling, potatoes, stocks & broth, baking needs, vodka, (hold the) olives. Many categories index above 100 and make the winner's list across Holiday months, November and December — also true is that many of these categories are not unique to either month. Take for example the winner's lists of both months in 2021: 47 categories in November, 57 categories in December. Of these, 27 were seen across both months (57% of November's total count and 47% of December's total count).
As for categories considered unique, appearing in only one of the 2021 Holiday months, the top five are listed in the table below.

While elasticity does vary across categories, those appearing on the winner's lists across both months in 2021 demonstrate longevity throughout the Holiday season and indicate strong likelihood of maintaining demand going forward. The chart below shows these categories and their index for each month.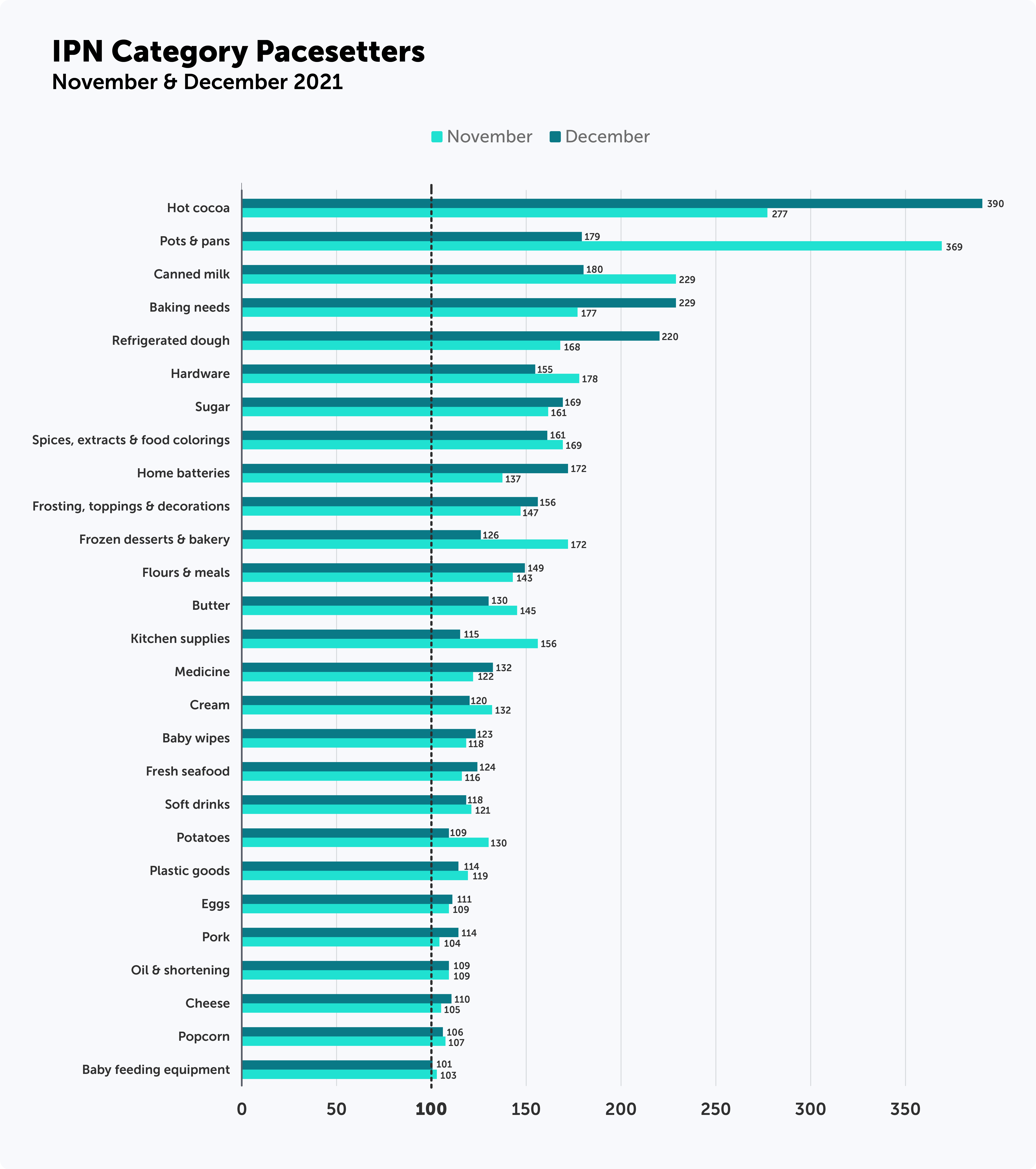 Forecasting seasonality with a significant degree of accuracy is important for any brand's outlook, or strategic roadmap, leading into a year ahead. IPN historical data reveal seasonal trends that brands can leverage to build highly effective promotional strategies across key categories. And yet, salient challenges still remain.
KC Glaser, General Mills, said, "We know consumers are facing challenges. We know that they will trade down to Private Label. We know that we'll get some of them back – there's a 0% chance we get 100% of them back. What I love about our campaigns on the Ibotta Performance Network is that [for example] a third of the redeemers were new to Big G cereal and more than half traded up from both value brands and Private Label which is where we tend to see our customers slip in times of economic uncertainty."
The Role of Performance Marketing in 2023
Recently, there has been industry chatter around performance marketing. The marketing firm Analytics Partners, for example, points out how binary clicks and search metrics are overstated. Others, like Gartner, explore how performance marketing will fit into the mix in 2023. In its Recession Playbook for Marketing Leaders, responding to what it names "The Triple Squeeze," or three compounding pressures: inflation, talent scarcity, and supply chain volatility — the research firm says companies must "Narrow the metrics" used to measure and manage digital initiatives.
Any way you slice it, the proven performance marketing model of the IPN empowers brands to leverage critical metrics (new sales, daily unit lift, purchase cycle reduction, category incrementality & growth for retail partners) and ultimately achieve results at scale.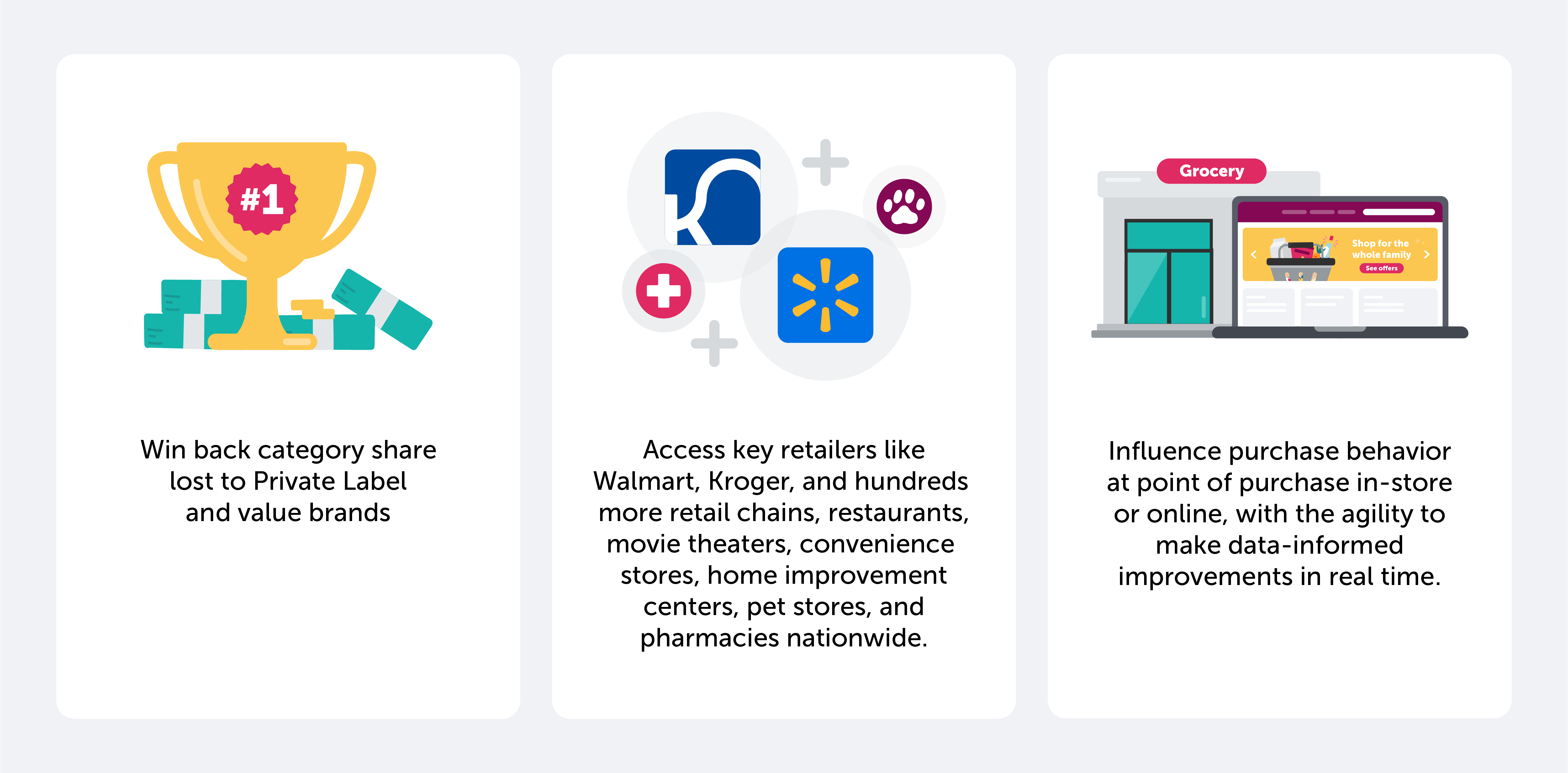 Economic weakening, fluctuating consumer behavior, and the latest rise of Private Label are challenges for brands to reckon with en masse — because shoppers seek value, perhaps now more than ever, and brands can deliver it via closed-loop cash back offers at the right time, right place, and at 100% pay-per-sale.
IPN insights and proprietary data enable brand and retail leaders to identify new opportunities for effective promotional strategies. Get in touch with your Ibotta rep or inquire here to learn more.