Shopper expectations have evolved, creating new opportunities for grocers. Much has changed in the past half decade. From the global pandemic to supply chain disruptions and evolving consumer habits, the grocery industry has faced challenges, evolved and innovated.
To evaluate the current state — and answer the question: Where do grocers go from here? — let's reflect on recent events and key takeaways.
Jump ahead to:
What just happened?


2019

Grocers are thriving
A growing economy, happy shoppers, a generally smooth supply chain — grocers were thriving. The US economy grew 2.1% in Q4 2019 (2.3% across the entire year).1 Retail sales hit $5.4T, representing a 4.5% increase over 2018 ($5.2T).2
Even despite slightly dampened growth (2018 saw 2.9% GDP expansion3), experts were still optimistic by early 2020. One senior economist for example, Eric Winograd at AllianceBernstein, said in a note to clients, "With the economy as stable as it is, it would take a very large shock indeed to materially alter the economy's basic trajectory."4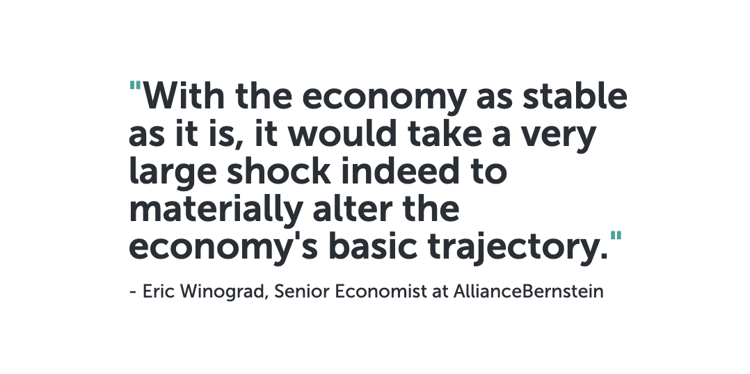 2020
Adapting overnight
March 2020 brought a catalyst of change sweeping the globe: COVID-19, and along with it intense fears, face masking, and social distancing. Consumers began 'panic purchasing,' emptying shelves and driving supply shortages. Brands began scaling back their advertising investments, and a significant number halted their new innovation initiatives. As reported by Circana, there was a notable 16% decline in new CPG product launches during the pandemic.
Ibotta's first-party data recounts the monumental shifts in purchase behavior throughout March 2020, drawing comparisons between the month's end and its outset:
Total Ibotta offer redemptions up +26% with large gains in grocery up +33%
Average basket size increases from 12.5 to 20 items
Store visits become less frequent, shifting from a daily occurrence to just over once a week
Declines in travel redemptions down -21% and online down -13%
Retail sales drop $80B in four months
Following a surge in panic buying, the spring of 2020 witnessed a dramatic shift in consumer behavior as economic uncertainty began to loom large. This uncertainty not only spooked shoppers but also triggered a significant decline in spending, leading to layoffs and further instability in the economy. The US economy lost 20.5 million jobs in April 2020, the Bureau of Labor Statistics reported — by far the most sudden and largest decline since the government began tracking the data in 1939.
Meanwhile, online and curbside pick-up grocery shopping proliferated. These methods became the main source of consumer spending with grocers, as the monthly share of online trips increased by 80% from July to December of 2020, according to first-party Ibotta data.
Rising trends in online shopping
In the summer of 2020, online-conducted grocery trips made up roughly 4.5% of all trips — this number rose to about 12% in late 2020, then leveled out at around 9% by September 2021. Kroger CEO Rodney McMullen recalled during a keynote presentation that his company experienced three years worth of anticipated e-commerce growth in only two weeks.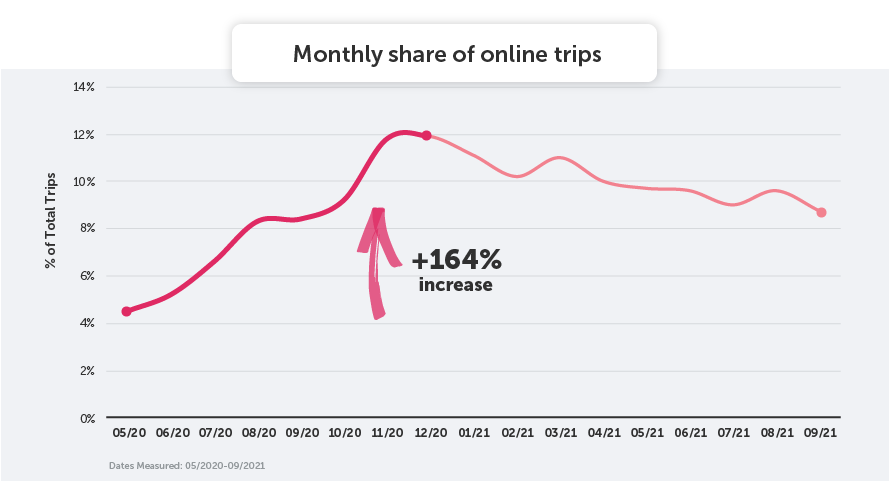 2021
In-store trips return
Shoppers returned to stores as COVID-19 concerns declined. Placier.ai data showed weekday foot traffic was up 12% at grocery stores and almost 10% at superstores in the fourth quarter of 2021 vs. the same quarter in 2020.
Another indicator that in-store trips were returning came from impulse shopping trends. Ibotta analysts tracked the percentage of receipts each month that included gum, mints, chocolates or other sweet snacks in packages of three-ounces or less — which are most likely to be added to baskets while shoppers are waiting in store checkout lines.
The ebbs and flows of impulse confectionery purchases are almost directly correlated with the percent of transactions shoppers were making online. They remain soft compared to pre-pandemic levels, an indication that brands would need to rethink their customers' path to purchase and find ways to replicate the impulse shopping experience online.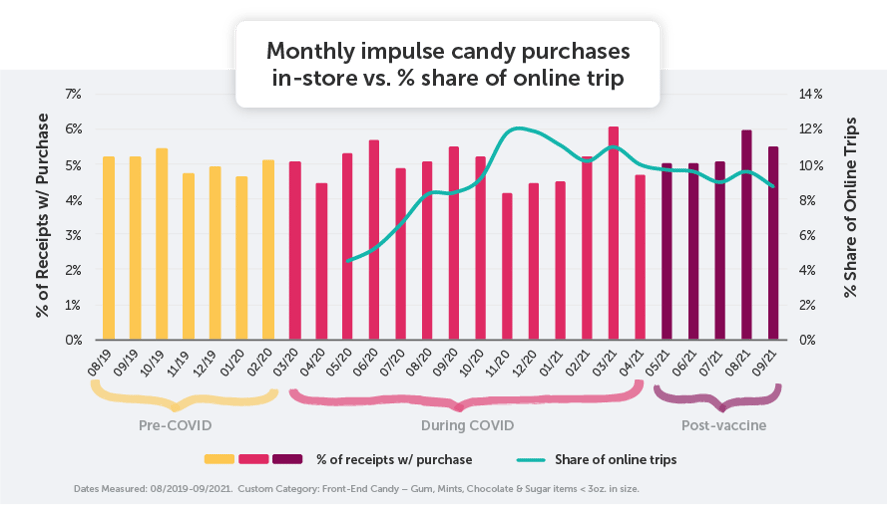 2022
Prices rise 18%
As we approached the conclusion of 2022, Ibotta's data showed prices surging by a staggering 18% between February 2021 and October 2022. In the midst of this economic turbulence, a wave of mass layoffs affecting 17.6 million Americans5 left shoppers seeking cost-saving measures. Faced with this shifting landscape, retailers and brands strategically turned to promotional incentives as a means to stimulate incremental sales and capture an increased share of the market.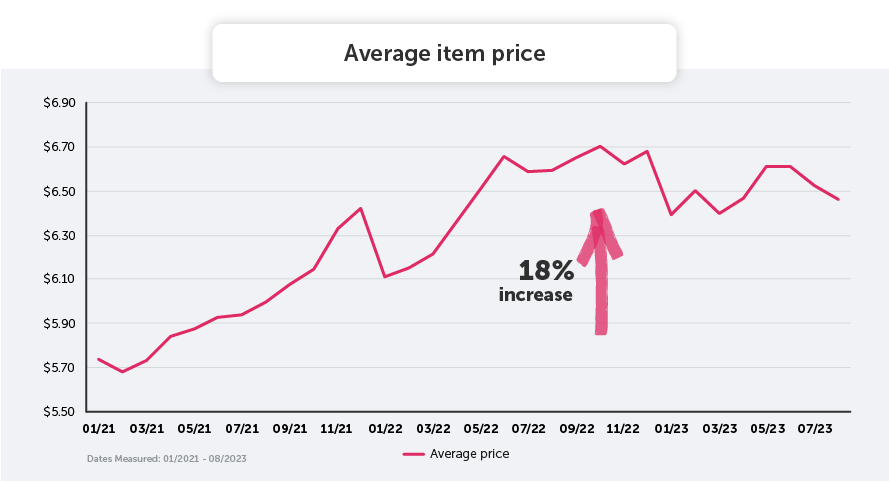 A new consumer mindset emerges
Grocery delivery apps represented a quarter of all food and drink app downloads worldwide in Q1 2022, and were up 40% YoY.6 Personalized, efficient, and cost-effective shopping experiences began winning consumer dollars in early summer 2022, with shoppers actively seeking additional savings through retail loyalty platforms, browser extensions, and by embracing cash back apps like Ibotta, which saw a substantial surge in usage starting from July 2022 and extending throughout the remainder of the year.
2023
The Private Label purchasing boom
Major retailers began doubling down on their private label brands. While the purchase volume of private label products remained stable from 2019 into 2022, by January 2023, private label was outperforming branded items in 156 categories across all major retail channels.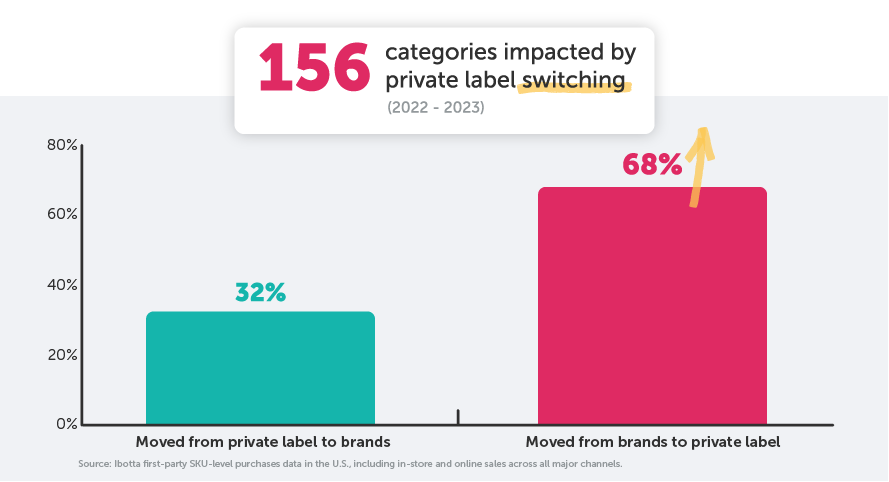 What's ahead?
Shoppers are becoming less loyal:

Research shows that shoppers are visiting 2X as many different stores as they were 10 years ago7, with 54% saying they would change where they shop to find savings.8
Dollar stores are exploding in popularity:

The value and dollar channel is now the fastest-growing segment in retail for food by household expenditure, thriving in a tumultuous economic environment.9 In 2022, there were over 37,000 dollar stores across the United States, an increase of 7,000 locations since 2017.10
High income shoppers are looking for more value:

An increasing number of $100K+ income households are shopping at Walmart, giving a clear indication of a sign of the times. Walmart CFO John David Rainey said, "In the face of a pretty challenging macro environment, consumers are looking for value."
Actionable steps forward


Focus on value to drive loyalty
Given the rise of discerning, price-conscious shoppers and increased switching behavior, retailers and brands must prioritize innovative strategies that excel in delivering outstanding value. Brands are quickly losing market share to private labels and facing year-over-year challenges due to declining volumes. By continuing to personalize the retail experience, brands can precisely convey their messages and extend offers to the right shoppers, optimizing value for all stakeholders involved.
Harness innovation to secure a competitive advantage
Online and curbside pick-up is here to stay — and is predicted to see consistent growth through at least 2027.11 The retail industry is also undergoing a transformative shift by embracing self-checkout solutions for convenience and efficiency. Furthermore, retailers are enticing shoppers with digital offers, encouraging them to embrace digital identification during checkout as a means to reward their loyalty. Catering to consumer expectations by providing promotional incentives at multiple touchpoints will only become more crucial to meeting modern shoppers where they are.
Brands must prioritize the development of a robust innovation pipeline. By fostering innovation and expanding product lines thoughtfully, brands gain a distinct advantage over generic private label alternatives. Innovation also brings attention to a brand's foundational portfolio, enticing consumers not only to retain their favored choices but also to explore novel variations.
Partner with Ibotta to drive efficient growth
The Ibotta Performance Network (IPN) is the way forward: enabling brands and retailers to incentivize cost-conscious shoppers and drive efficient incremental sales (at 100% pay per sale) to ensure market share gains and cross portfolio expansion - as part of increased trips, and increased basket sizes.
For Retailers: The IPN partners with 2,000+ leading brands, enabling retailers to deliver more digital offers on a wider range of items.
1,000+ offers available daily
$2,500+ in daily savings

to push into loyalty programs
For Brands: The IPN delivers performance marketing efficiency at unprecedented scale. Advertisers on the IPN average:
7X return on ad spend (ROAS)
50%

lift in incremental units sold

42% of conversions new-to-brand
70% shorter purchase cycle
Contact your Ibotta rep or inquire here to gain custom-tailored insights and explore opportunities.
¹US News
²Fred
³Politico
4The Washington Post.
6BLS.gov
5Data.ai
7Coupons in the news
8Winsight Grocery Business
9Yahoo Finance
10Statista
11Brick Meets Click