Shoppers have more choices than ever before in where and how they buy, and legacy strategies to earn their loyalty and track their activity are no longer sufficient. That's why Ibotta has launched a new solution to help consumer brands and retailers drive incremental growth in the rapidly changing omnichannel environment.
The Ibotta Performance Network (IPN) is the first digital network that enables cash rebates to be delivered in a coordinated fashion across large third-party sites including social media networks and recipe sites. Shoppers on those platforms will be presented with digital cash back offers for relevant products, which they can select and seamlessly add to their digital cart for online or in-store shopping.

Ibotta provides rewards as a service, sourcing offer content from thousands of CPG brand partners, distributing that content across the network, and supporting a seamless distribution of cash back rewards to the consumers. Retailers in the IPN that host Ibotta's rewards content on their websites and mobile applications will benefit from a closed-loop rewards system, in which the cash back earned in their stores is credited to a shopper's account to be used for future purchases at that retailer. The pay-per-sale performance-based pricing maximizes the results of marketing spend, which brand managers can monitor through dashboards providing real-time reporting.


A Digital Revolution
The Ibotta Performance Network will allow brands to reach more than 120 million consumers with high purchase intent each month across their preferred platforms. Its value proposition will only increase as more CPGs shift their focus to digital offers. According to a recent Kantar report on promotion trends, 87 of the top 100 CPG manufacturers increased their spending on digital rebates, with half of those companies more than doubling their investment.
Ibotta offers an industry-leading average of $1,000 worth of cash rewards each week from both leading CPGs and general merchandise brands, along with category-level rebates. It's a scalable, omnichannel solution that allows retailers to collect the full price of products at checkout and prevents stacking of offers.
An Omnichannel Solution

Digital coupon use has already eclipsed that of paper coupons. That shift was accelerated by the COVID-19 pandemic, when some retailers stopped accepting paper coupons to reduce touchpoints even as more shoppers turned to e-commerce, where they could only use digital offers.
E-commerce is expected to account for 21.5% of all grocery sales within five years according to a study by Mercatus and Incisiv, with 43% of shoppers purchasing groceries online in 2020 compared to just 24% two years ago. 35% of shoppers tried ordering groceries online for the first time in 2020.
While it was health concerns that pushed shoppers to try e-commerce, the pandemic really just accelerated existing trends. All generations increased their e-commerce spending during the pandemic, but Gen Z and Millennials, who were already early adopters, further solidified their preferences.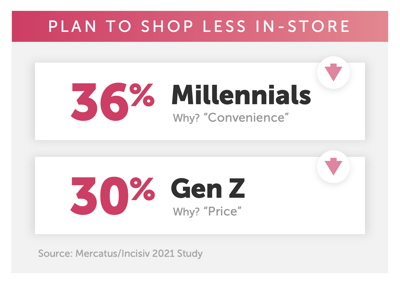 According to a May 2021 study by Kibo Commerce, 30% of Gen Z and 36% of Millennial shoppers said that they plan to shop in stores less than they did before. This shift was primarily driven by convenience for Millennials and price for Gen Z, showing the importance of solutions that meet both needs.
The Mercatus and Incisiv study also found that omnichannel shoppers are less loyal since they just need to click over to another retailer website to make a purchase rather than making an additional trip. Retailers need to fight harder to secure their purchases by offering both an excellent user experience and the best value.
Nearly every major retailer offers some form of digital coupons as part of their loyalty program. A study by Inmar found that use of these load-to-card coupons increased 27% in 2020, expanding 93% at the top 30% of grocery chains. Using loyalty data also allows retailers to send shoppers the most relevant offers to generate incremental sales.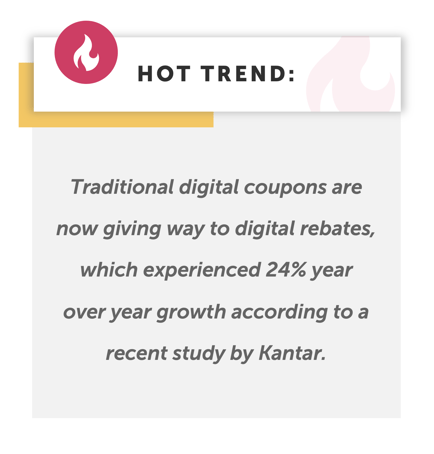 Yet traditional digital coupons are now giving way to digital rebates, which experienced 24% year over year growth according to a recent study by Kantar. These 1.3 billion rebates accounted for 16% of all digital offers. The IPN provides the best of both technologies, by creating the option for a closed-looped system where the rebates are linked to a unique shopper and, once redeemed, are credited directly to their account for future purchases at the retailer.


Reducing Inefficiencies & Waste
Retailers that don't have traditional loyalty programs are still using paper coupons, which is wildly inefficient as well as being harmful to the environment. According to a Borrell Associates Study, 37,315 trees are cut down a day to print paper coupons, but less than 1% of the paper coupons produced every year are actually redeemed.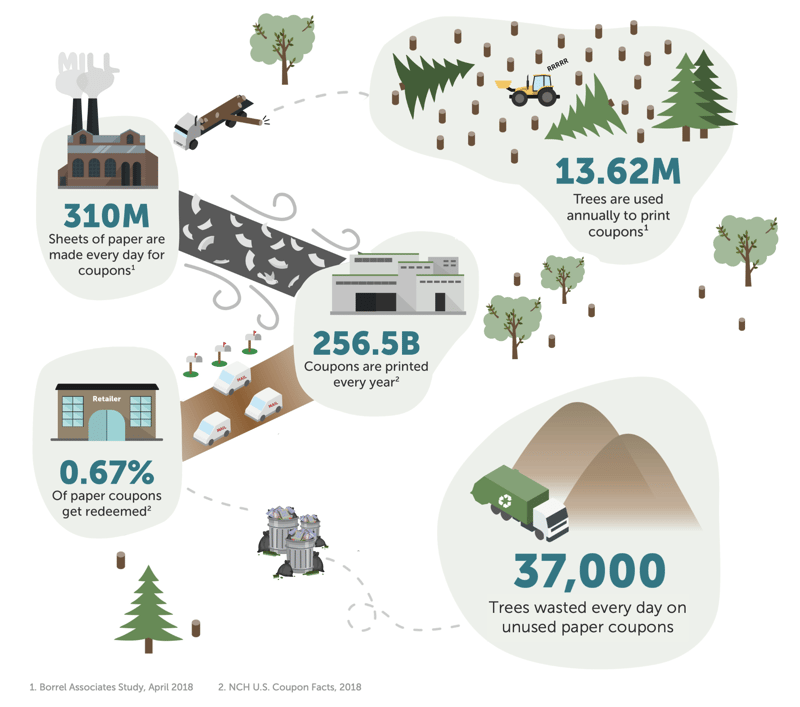 Along with producing sustainability concerns, paper coupons slow checkout lines because they must be individually scanned and disposed of. Digital solutions allow for the redemption of all offers with just the scan of a cellphone or input of a phone number. Ibotta's digital cash back rewards program provides CPGs with real-time redemption data that allows them to measure the success of a campaign based on geography, retailer, and demographics. Paired with loyalty data, that information can improve customer profiles and measure preference changes and the role promotions play in trial and brand switching.
The IPN can help you build customer loyalty, reduce inefficiency and measure your promotion's success across channels. Click here to learn more.