In a July, 2022 article from USA Today, Michael Ashton says, "Consumers won't feel immediate relief even as the inflation rate slows because many of those elevated prices are likely here to stay. The price level has permanently changed. Until your wages catch up (to inflation), it will continue to hurt." So while many consumers are making more money, they can do less with their gains.
Brands report confidence that loyal consumers will stick with them through higher prices, while some insiders warn they might sour trusted relationships by keeping prices high when shopping budgets are tight. According to Fortune, "experts say brands' current confidence that consumers will stick with their favorite products as prices continue to climb may be shortsighted. 'We've got this false sense of security from some of these brands, who are saying we can raise prices and consumers are going to pay it,' says Phil Lempert, an analyst and food trends expert known as the Supermarket Guru.

Consumers Are Looking For Deals (and Relief)
84.51° reports in the latest edition of its Consumer Digest that 73% of respondents were extremely concerned about inflation, 63% are looking for deals more often, and 53% see fewer items on sale. Meanwhile, private label consumption is increasing, a trend echoed by Forbes.
For the deal seekers, traditional coupon availability is steadily decreasing from a peak in 1999; 177 billion coupons in 2021 vs. 336 billion in 2010. Coupon redemption is also lower. "Redemption rates declined to 0.5 percent of all print and digital coupons in 2020 from about 3.5 percent in the early 1980s, according to a paper, Rising Markups and the Role of Consumer Preferences, by economists at Harvard University, Georgetown University and Heinrich Heine University Düsseldorf.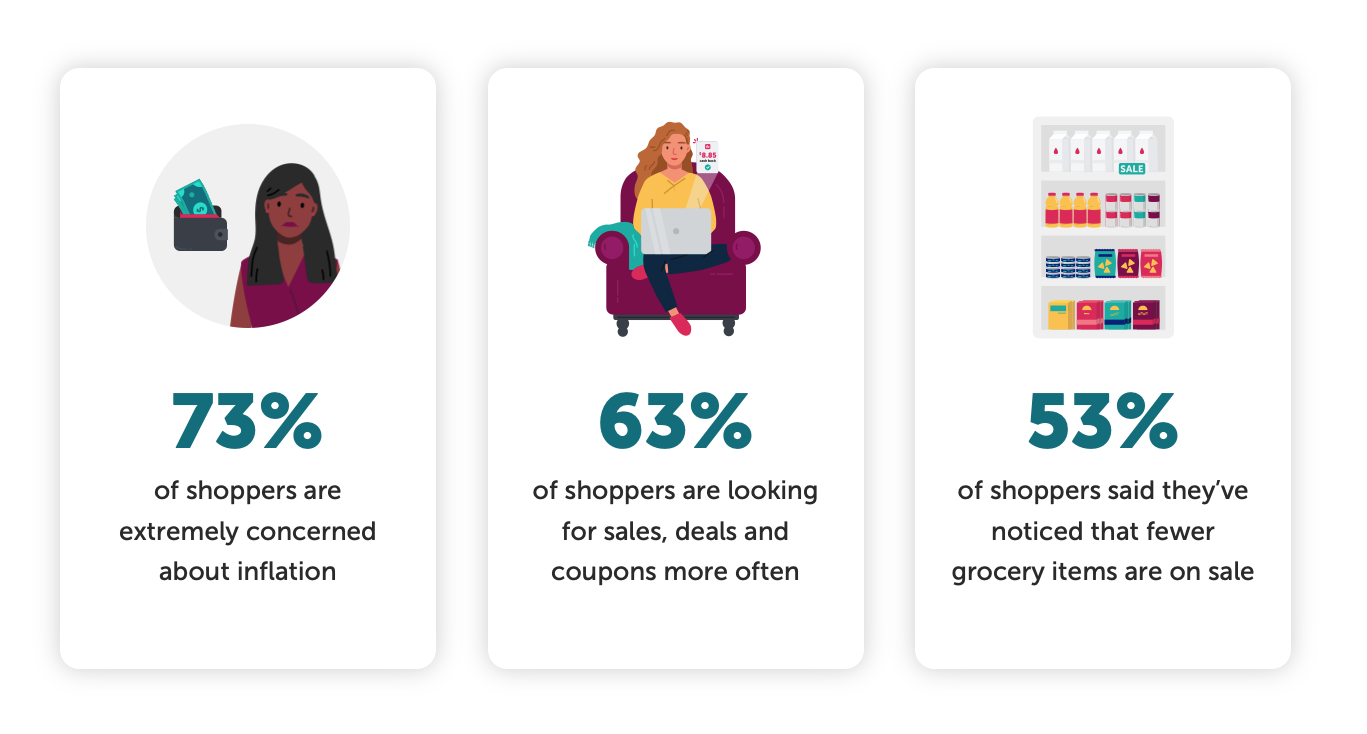 Meanwhile, cash back rewards are on the rise. According to a recent Kantar report on promotion trends, 87 of the top 100 CPG manufacturers increased their spending on digital rebates, with half of those companies more than doubling their investment. Digital cash back rewards are a recent addition to the list of traditional pricing strategies. The tactic plays into the belief that for many consumers, once the offer is seen, not redeeming it is like leaving money on the table.

Manufacturers Face Big Challenges
Consumers aren't the only ones entering an uncertain second half of 2022. Manufacturers are struggling to compete with other name brands, while defending share from retailer private labels. With grocery prices rising, sales of less-expensive store brand products are on the rise as well. "Customers are aggressively starting to buy our brands," Kroger CEO Rodney McMullen told investors last month, pointing out that some 92% of Kroger shoppers have purchased at least one Kroger-brand product. "We do see some switching, which would include switching specifically from brands to private brands," Walmart U.S. CEO John Furner recently shared with his own company's investors.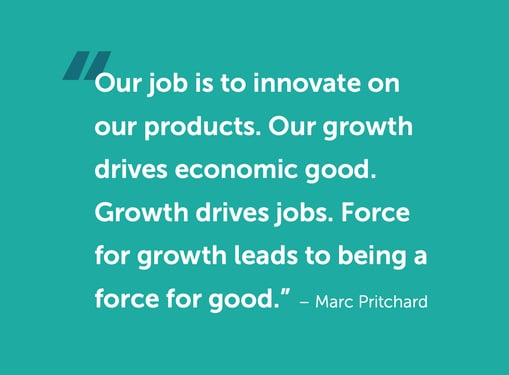 Many brands are launching new products, innovations, and line extensions in addition to supporting their trademark SKUs. Producers are facing supply chain shortages in select areas, while others see overstocks in some regions or categories. P&G's Chief Brand Officer, Mark Pritchard, recently said many brands need to reprioritize their marketing efforts to focus on growth. P&G's mantra pre-Covid was that it wanted to be "a force for good and a force for growth". But in the face of increasing economic pressure, it recently flipped that. Pritchard advised his fellow marketers: "Our job is to innovate on our products. Our growth drives economic good. Growth drives jobs. And it decides the partners you work with, the retailers you work with. And then it enables you to do more good for society and planet. Force for growth leads to being a force for good." It's the marketing equivalent of airline safety guidance – you must put your oxygen mask on first before you're capable of helping others.
Brands will need more from their partners. Existing promotional platforms can't compete with the scale of traditional media, while inefficiencies continue to plague traditional media's ability to measure incrementality or ROI. Throw in the rise of new media platforms and the time required to manage several campaigns and it's easy to see why growth challenges face so many marketers today.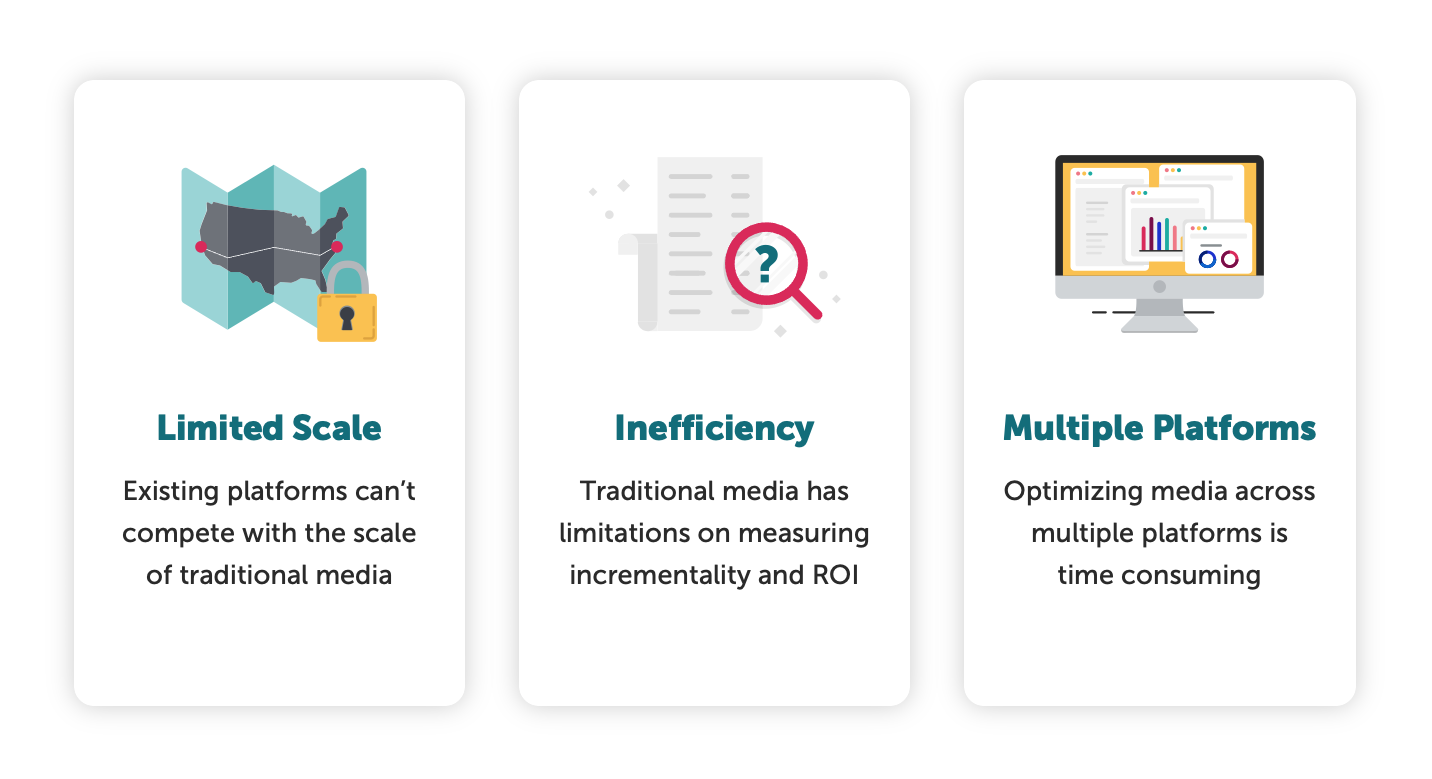 Driving Growth in a Complex Environment
As consumers continue to demand deals, retailers compete for online and in-store trips, and manufacturers vie for category share, what is the best win–win-win for everyone involved? For each product and customer segment, brands must spotlight their overall value proposition. If the product delivers superior quality related to price, is readily available, and is selling-through as desired, then dollars can be spent keeping the brand top of mind and in-stock. National brand manufacturers are paying close attention to store brand sales, and some are planning to ramp up promotions to help win back cost-conscious consumers. Brands should rely on partner platforms to reach a massive audience with pay-per-sale efficiency, and to be integrated with retail properties for streamlined measurement and reporting.

The Ibotta Performance Network (IPN) is the first digital network that enables digital cash back offers to be delivered in a coordinated fashion across large third-party sites including social media networks, recipe hubs, and other platforms, to meet consumers where they are. This summer, the IPN will reach unprecedented scale with more than 120 million US consumers.
Digital cash back rewards, as opposed to print coupons, help strengthen a brand's relationship with consumers and retailers. For consumers, it's easier to redeem a digital offer than it is to clip a print coupon, present it at the register, and wait for it to be scanned. As one avid couponer told the New York Times, "(retailers) don't want to deal with all those paper coupons, they're such a headache. With digital, everything just automatically comes off." IPN offers can go from a targeted digital ad to a redemption in a few clicks.
Retailers benefit with incremental traffic, faster checkout lines, and much less paperwork to process – benefits gained without sharing valuable consumer data with outside parties. The IPN's closed-loop system makes it possible for digital rebates to be linked to a unique shopper, and once redeemed, credits their account directly for future purchases with that retailer. Both retailers and advertisers can see at a glance which offers are working, where, and when with attribution data seen in the IPN dashboard.
The ease of stopping, starting, and modifying campaigns also allows IPN promotions to be much more nimble than traditional campaigns, giving manufacturers with supply chain and other economic uncertainties an edge to wisely spend dollars when and where they need it most.
To learn more about the Ibotta Performance Network, visit ipn.ibotta.com