With ecommerce bringing shoppers more options than ever before, brand recognition or a basic discount program is no longer enough to ensure customer loyalty. CPGs and retailers are seeking new strategies to better capture share of wallet.
"I think that the next generation of loyalty is going to be all about experience," Mike Molitor, head of ecommerce and loyalty for Arizona-based grocery chain Bashas' said at a Grocershop 2021 panel discussion on new customer loyalty strategies. "I really think that the reward program approach is kind of a beginning, but the real endgame is what kind of experience can you create in your store so that if someone shops with you more than anyone else, they get benefits."
Amii Lang, director of ecommerce and loyalty for the Cleveland-based Heinen's Grocery Store chain, said retailers need to present their shoppers with customized offers to build enthusiasm for their brand. The data collected through digital loyalty programs makes that possible.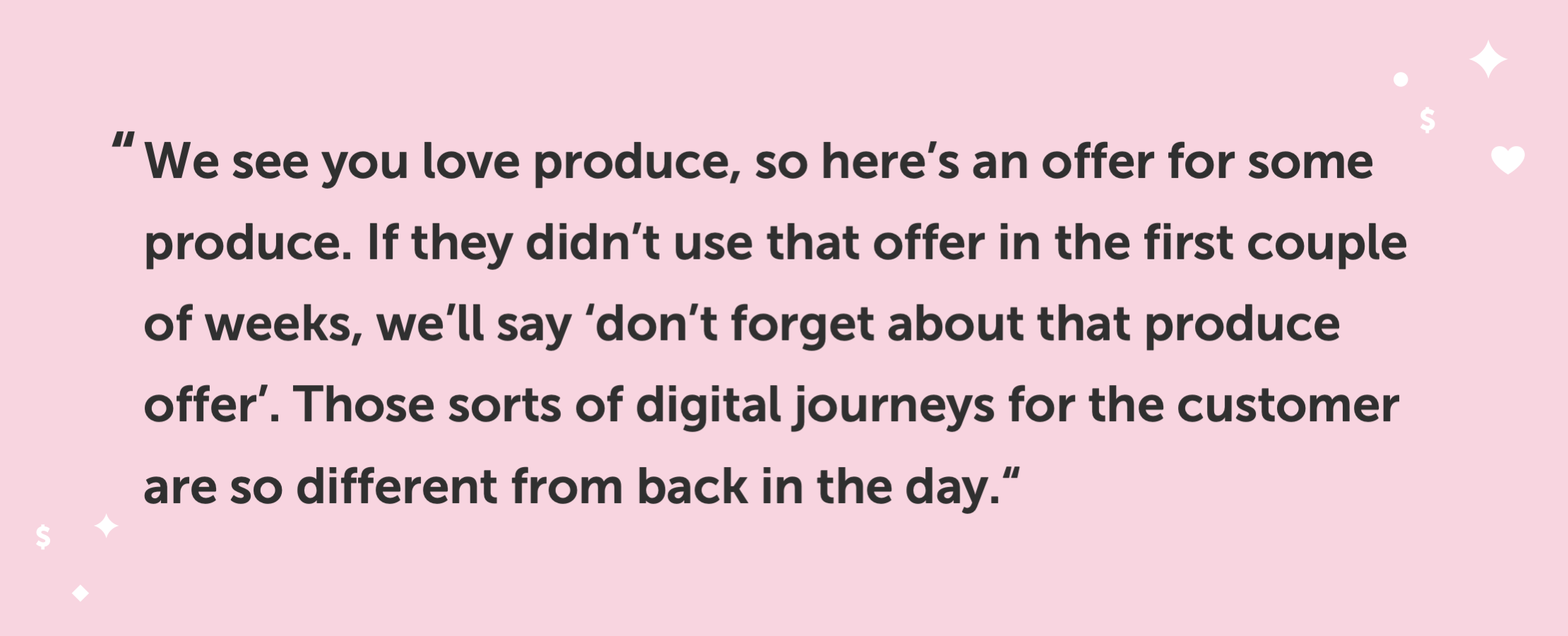 "We see you love produce, so here's an offer for some produce," she said. "If they didn't use that offer in the first couple of weeks, we'll say 'don't forget about that produce offer.' We can create those early journey interactions for the customer and let them know we want to be the grocery store for them. Those sorts of digital journeys for the customer are so different from back in the day."
That data provides opportunities for more than just offers. Molitor previously worked as senior vice president & chief digital officer of PetSmart when the retailer was buying Chewy.com. He noted that the reason Chewy outsold Amazon in the pet category was their auto replenishment program, which provided shoppers with products they consistently used at a discounted price, and he believes that the tactic still has room to grow.
"I really think the next generation of loyalty is going to be instead of sending you a promotion, I'm going to send you an actual order you can edit," he said. "If you complete that order, I'm going to give you the best price. You start earning promotion dollars from a fishing expedition."
The ecommerce boom caused by the COVID-19 pandemic provides new opportunities and challenges. Molitor stressed the importance of making the right substitutions and prompt service, whether through delivery or curbside pickup. Lang said her chain brought in many new online shoppers who had never been inside a Heinen's store and said she wants to ensure they have a seamless shopping experience across channels.
Andrew Thomas, vice president of marketing for Chicken of the Sea International, noted that some of his brands sell better online than they do on shelf where it can be hard to see the small cans or figure out what differentiates them from the competition.
"What the pandemic did for us really drew our attention to how important ecommerce would be," Thomas said. "We pivoted quickly, and it has shown such tremendous results for us."
The brand increased its investment with Amazon and has seen a spike in use of its auto replenishment Subscribe & Save program. It also enjoys an 18% market share on Instacart compared to a general 13% share of the category across channels.
"This category has not quite caught up to where most brands want to be in terms of ecommerce," Thomas said. "The more people we can get into Chicken of the Sea on Instacart, the more likely they are to buy it again. It's a big first mover advantage."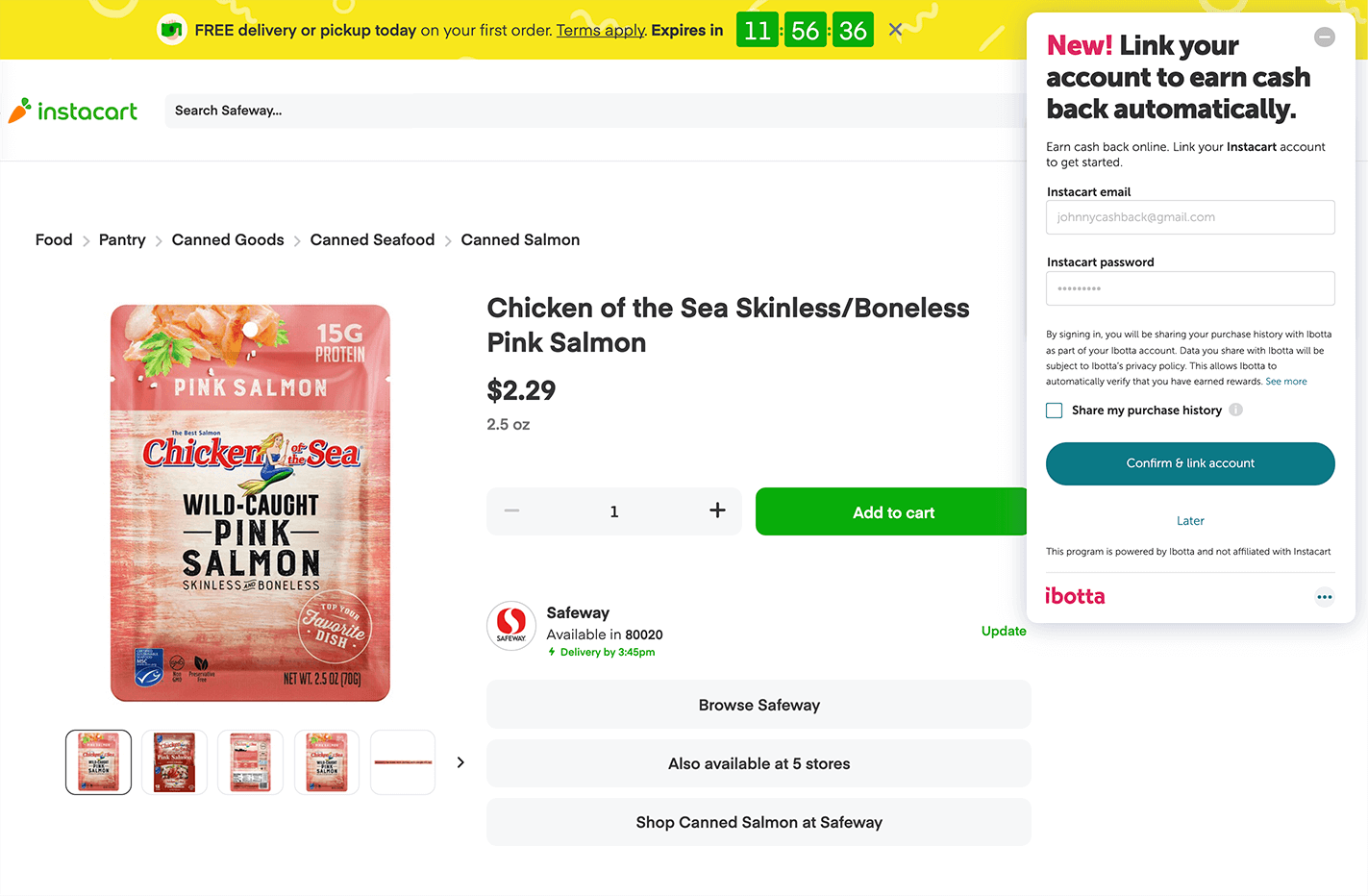 Brands are also working to customize their communications with customers.
"We've all grown up in a world where everyone gets the same email and text message and that's not going to work long term," Molitor said. "Custom messages will create loyalty because you're talking to me in the way I like to be spoken to about the things I'm interested in."
Heinen's is testing a version of its loyalty program focused on making healthier choices through recipes and coaching, allowing members to opt into the information. Chicken of the Sea is overhauling its website to ensure it can capture data from its popular online recipes.
"We're really rebuilding the user experience and user journey leading to a store locator," Thomas said.
Thomas also encouraged trying new solutions rather than accepting conventional wisdom. For instance, a recent successful campaign with Ibotta proved that Millennials really do own can openers.
"It's very targeted," he said. "Using a platform like Ibotta, which more younger generations are spending more time on, has finally unlocked the younger generation for us."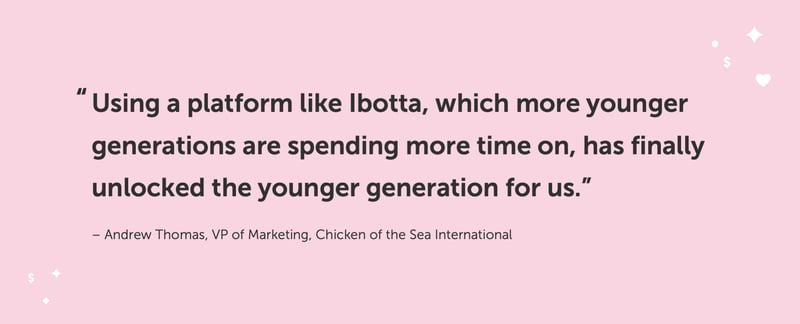 Ibotta is powering the next generation of grocery rewards platforms through the Ibotta Performance Network, which provides retailers with hundreds of cash back offers from CPG brands that are delivered to shoppers through the Ibotta app browser extension and website.
Ibotta can also integrate cash back rewards into a retailer's own app and website to create a strategic, closed-loop rewards system. The IPN also lets brands and retailers better understand their shoppers by providing real-time data. Click here to learn more about how the IPN can help you.