This year, Holiday purchase behavior will change drastically
CPG Brand Managers and Shopper Marketing teams are crafting new strategies for the 2022 Holiday season — because shoppers nationwide are feeling significantly more apprehensive and overwhelmed according to recent Ibotta Performance Network (IPN) survey data.
In fact, 91% of shoppers say inflation alone will impact their Holiday purchase behavior. Other factors, from supply chain issues to gas prices in flux and rising interest rates, are also causing shoppers to shrink their Holiday budgets. A recent McKinsey study finds 74% of consumers are "trading down" using one or more of these various methods: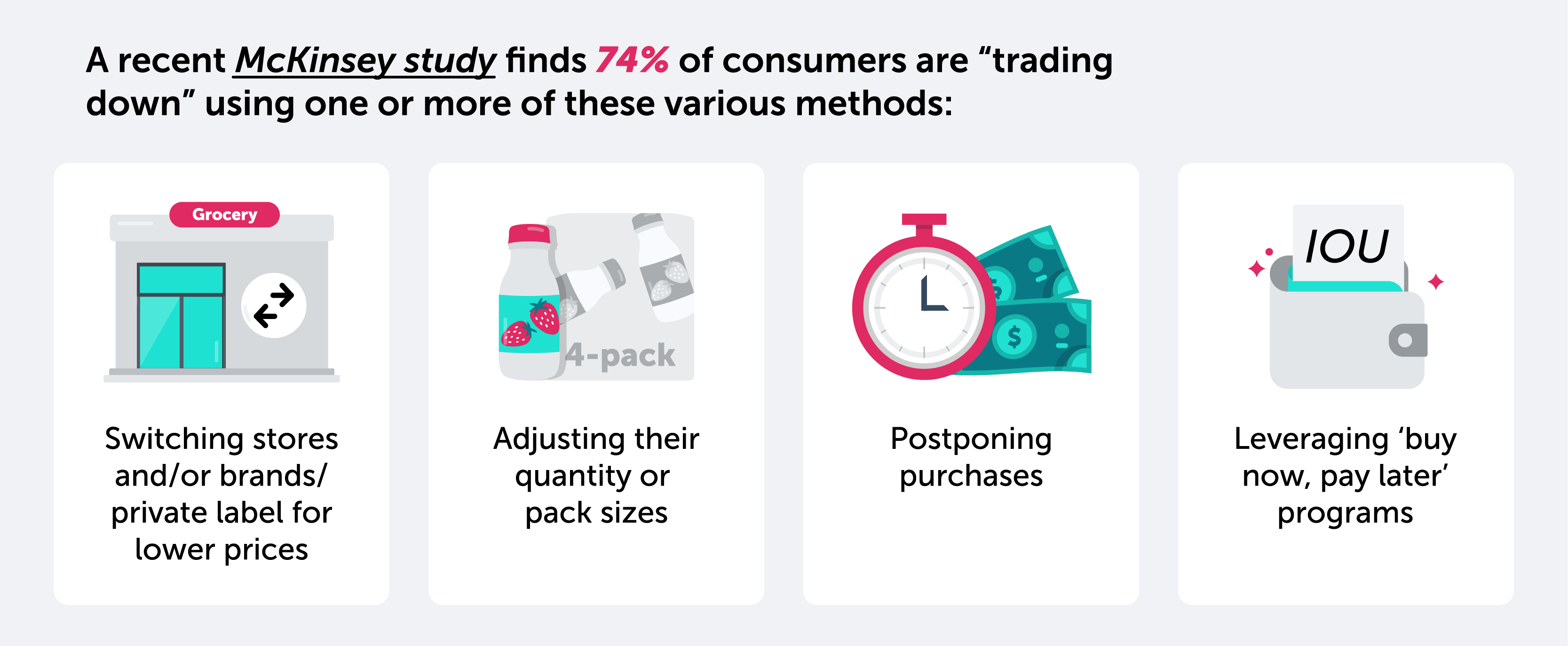 Key categories will be impacted
Historical data from the final months of 2021 — via IPN Category Pacesetters — provide reliable insight into which Holiday categories are expected to re-emerge as key frontrunners in those same year-end months of 2022.
Brands who rely heavily on November and December sales should still expect a large volume of sales within these CPG food & bev categories. However, they will need to avoid losing their share to Private Label and competitor brands, as shoppers become increasingly selective when it comes to finding the right products at the right price.

Top November 2021 Categories
Based on IPN Category Pacesetters, indexing above 100, which represents a significantly higher share of total purchases during November '21 compared to the previous eleven months.




Consumers become eager for home-cooked meals and Thanksgiving feasts, as evidenced by food & bev categories dominating the Nov '21 winners list. Home décor (132), air fresheners (124), and video games, movies & music (138) were among the non-food & bev categories, attributable to shoppers planning to welcome in house guests.
Cooking related categories — from pots & pans to olives, herbs, pie filling, instant potatoes and more — took a significant share of the November '21 winner's list. Notably, the top 9 categories (of all 47) were cooking related, representing 30.13% of the total share — this percentage rises to 79.1% when factoring all cooking related categories.

Top December 2021 Categories
Based on IPN Category Pacesetters, indexing above 100, which represents a significantly higher share of total purchases during December '21 compared to the previous eleven months.




In addition to cooking related categories staying strong from November to December, snacks, sweets, and beverages saw an uptick in December. 'Tis the season for entertaining!

Snapshot:


More Holiday season categories for Dec. '21 were gift cards (286), greeting cards (233), party supplies (184), and home decor (153).

Staying Power: November & December 2021
Based on IPN Category Pacesetters, indexing above 100.
The following categories appeared on the winner's list across both months last year, demonstrating longevity throughout the Holiday season and indicating strong likelihood of maintaining product demand share in 2022. As the consumer buying decision process becomes increasingly scrupulous, brands will seek effective promotional strategies to ensure a competitive advantage across these categories in particular.
IPN Category Pacesetters: Appearing November & December 2021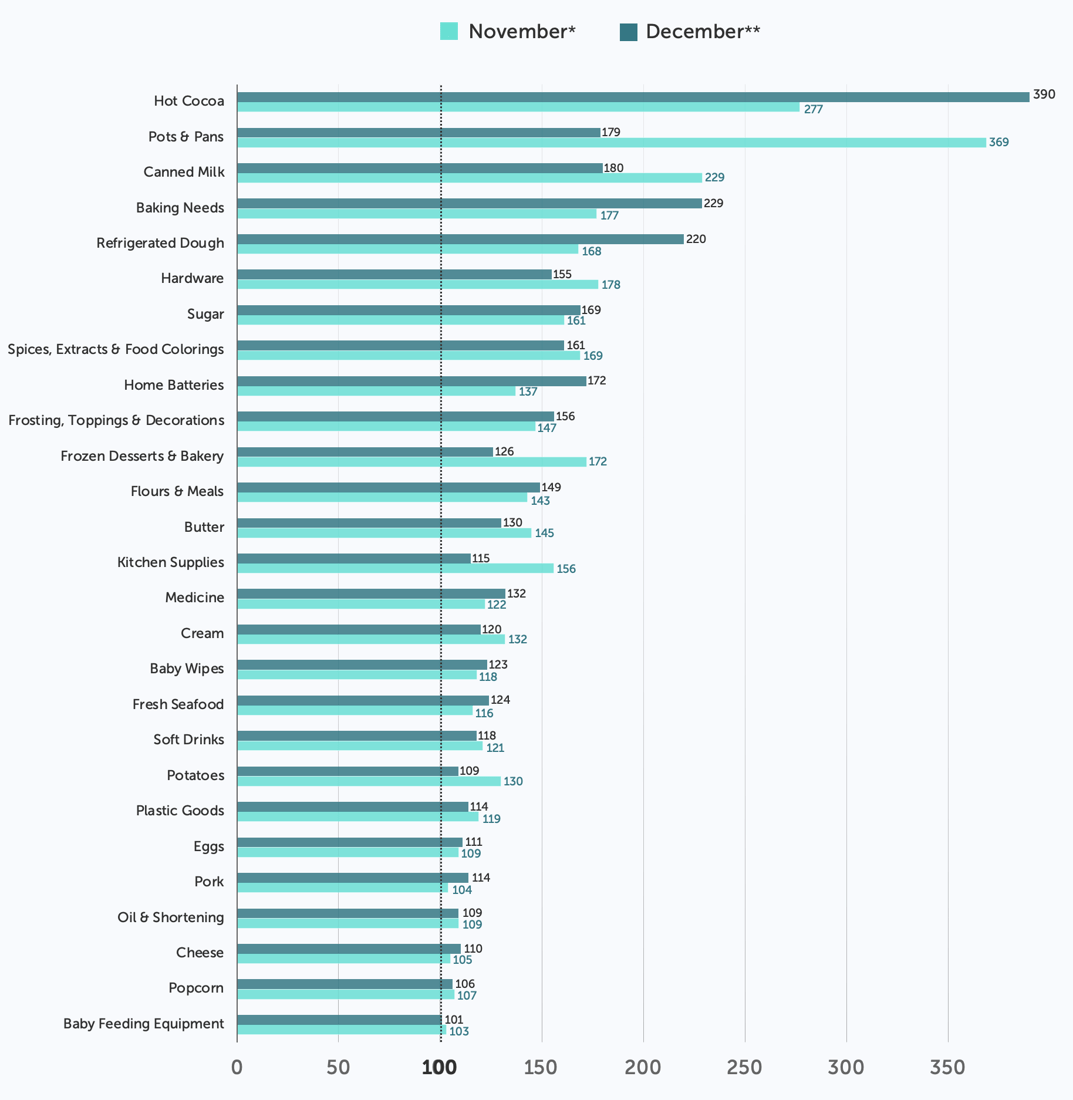 Winning Q4 Category Share
Inflation & changing shopping behaviors
Brands are losing market share across grocery categories to Private Label at an accelerating pace. Two critical drivers of this trend are changing prices and shopper prudence.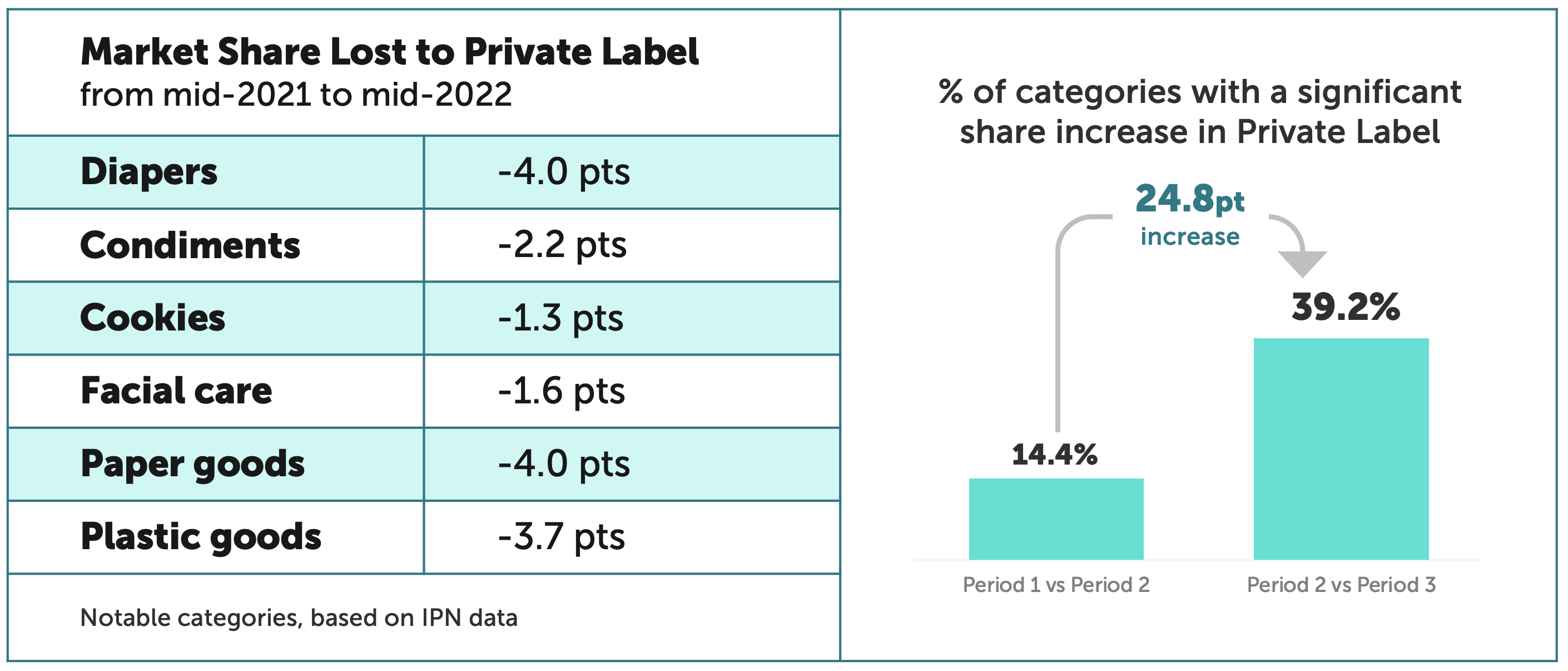 Changing Prices
Over the past 12 months, based on IPN data, total growth in average price across categories was significantly more substantial for Branded SKUs compared to Private Label.



Shopper Prudence
Brands now can answer price growth and consumers' frugality by ensuring value delivered. As Chris Cracchiolio, SVP & General Manager, Walmart+ stated during a live webinar with Ibotta — "The Ibotta partnership plays an important role in two areas specifically, in value - making sure our customers get the best value, and experience - delightful, seamless, and intuitive."

The Time to Act
The Q4/Holiday season will be a critical period for brands to win back category share lost to Private Label — There's never been a more important time to use Q4 marketing spend to drive efficient ROI through 100% pay-per-sale at unprecedented scale.

Brands are trusting Ibotta
Drive incremental sales during Holiday to win back shoppers
On enduring competitiveness in a high-inflation context, a recent Accenture article prescribes the following: "Pay close attention to industry specifics. Inflation doesn't always have broad-brush effects. A nuanced understanding of industry context will influence what levers you need to pull, and when." Because of Ibotta's deep industry understanding, unrivaled data analytics, and collaborative approach, brands in partnership gain a true competitive advantage.
Ibotta recently ran a comprehensive B2B survey, and the results show Ibotta outperforms other competitors such as Rakuten, Fetch, Neptune Retail Solutions, and Quotient on ease of promotion creation and making clients feel valued and included.
Additionally, Ibotta received exceedingly high marks on delivering strong ROI and strong anti-stacking capability while sticking to fast timelines. Regarding robust data analytics, clients rate Ibotta at +30 percentage points vs. competitor average.
Once clients leverage Ibotta they are satisfied, likely to recommend and have 100% likelihood to use Ibotta again.
Get in touch with your Ibotta rep to take a deep dive into Holiday 2021 historical data and develop effective strategies to win brand share against competitors and Private Label.